By JanyNicole Stehman
Since 2006 Sacramento Fashion Week has held annual events, however this year marks the first time they have done a full seven days of spectacle. This year also marked the first time that Federico Beauty Institute was brought in to help with hair and makeup. Coincidence? … Definitely, but that doesn't change the fact that it was fantastic to spend so many days working with amazing, local industry professionals.
The week started off with the Boutique Show and Press Party at the Sacramento Auto Museum on Sunday Feb 15. Under the guidance of Missy O'Daniel of Allure Salon and Spa and Jasmine Cardenas MUA(make-up artist) our students were able to spend the day working hands on with models and local boutiques to bring their vision to life.
On Wednesday the 18th, Missy and Jasmine, along with a team of stylists came to Federico to demo upcoming hair and makeup runway trends for 2015. Students and local fashion fans were able to sit in on the workshop and ask questions, picking up tips and tricks from their years in the industry.
It was fantastic to see so many techniques all at one time. The first two events of Sac Fashion week were so full of knowledge and experiences and that was just the beginning!
Thursday brought Federico's biggest day of all the events. "The Emerging Next" show was held here in our ballroom. Four local up-and-coming designers, Tyniece Hall, Theresa Truong, Sinan Dunlap, and Rebeka Garn and one local stylist, Winnie of Stackz of Style Productions brought models in bright and early for hair and makeup preparation. We took over Studio 68 and it was all hands on deck.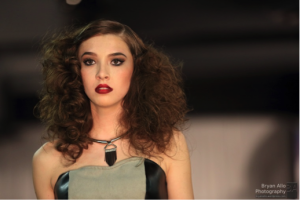 Cosmos, Barbers, and Estis all worked together on looks ranging from edgy street-wear to elegant evening gowns, to adorable woodland creatures. It was great seeing all the students in a new environment. No one hesitated to dive in on new techniques, and aptly showed their skill. They deftly wielded their mini crimpers and wands as hair pins and fake hair flew around the room. Barbers gave the male models fresh cuts and straight razor shaves, while our estis set up in the Star Student room applying deep garnet ombre lips and perfect winged liner.
At night, everything moved into the ballroom and the runway started. The room had been transformed, local artists brought in iron sculptures and paintings, there were murals by Matt Brown, Rodney Corpuz, Dante Declarador, Brandon Gastinell, and Michelle Vo. EFFRT had their graphic tees on display and a dozen photographers stacked at one end of the room to capture all the madness.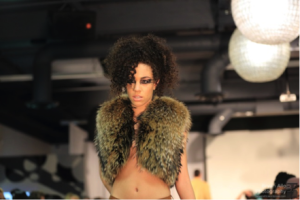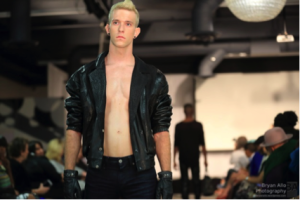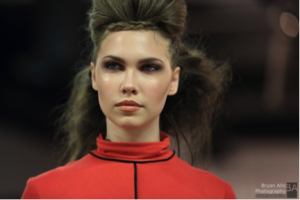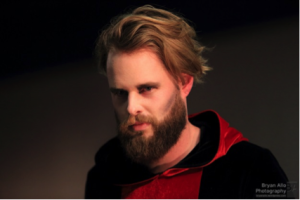 All of the designs looked stunning. There is nothing better than seeing a runway show from beginning to end. Watching each step build upon the last to come together in one perfectly executed look is breathtaking.
On Friday we saw our fourth and final day of working on Sac Fashion Week. We returned to the Auto Museum for the Spring Summer 2015 show featuring Designers Rebecca Cahua, Kimberly Eanes, Samantha Furno, Latiya Gholar, Gina Sanchez, Peter Srichan, Mai Vang, and Yennie Zhou. Once again it was all hands on deck. There were around 100 models for this show, by far the most we've ever worked on. PM Cosmo Student and Student Ambassador, Victoria S. did most of the hair for Kimberly Eanes, featuring messy wrapped braids pulled into an up-do.
The runway of freshly poured concrete walkways and sand gave an otherworldly effect to the Museum and highlighted the ornate looks with its stark contrast.
We at Federico would like to deeply thank everyone involved. All of the students that went above and beyond to creating stunning looks, Missy and Jasmine and their teams for letting us participate, The Art Institute of Sacramento, Christina Marie and the Capitol Indie collective for having us host the Emerging Next Showcase, and of course, Duane Ram the Executive Director of all the events for organizing such an amazing event. We look forward to next year!
sacfashiosss