Get the Skills to be a Beauty or Barber Professional
Hands-on training alongside creative artists & industry leaders in a fully-equipped modern salon
Join The Federico Beauty Community
Are you a stylish, outgoing individual interested in a rewarding beauty or barber career? Do you love helping others to look and feel their best?
For 70 years, Federico Beauty Institute has helped thousands of individuals in Sacramento, California to get the hands-on training, practical experience and industry support it takes to launch successful beauty careers. We are a third-generation, family-owned and operated beauty school in Sacramento built on our founder, James A. Federico's belief that "A license doesn't earn a living, but an education does."
Our Programs
Barber

This program combines old world tradition with new school techniques. Strike a balance between contemporary trends and classic practices and get the skills to become a successful Barber. Learn more.

Esthetics

This is a dynamic skin education! Esthetics students learn to perform a wide range of spa and skincare treatments and get the skills it takes to pursue a rewarding Esthetics career. Learn more.

Cosmetology

We believe that hair design is an art. This creative approach guides students through in-depth elements of hair design and styling. Get prepared to pursue a successful career as a Cosmetologist. Learn more.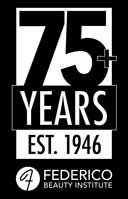 This fun, online quiz takes 3 minutes to complete and you'll get a personalized report. Identify your strengths and social style plus the training and positions you're best suited for. Get Your Career Training Readiness score now.
What Sets Us Apart?
Flexible Class Schedules – Busy schedule? No problem. We offer accessible scheduling options including full-time, part-time, evening and weekend classes so you can achieve your education goals with ease and flexibility.
On-Site Student Salon & Spa – You will have the chance to service and interact with real clients in our on-site salon and spa. This will allow you to build your clientele while gaining experience and raising your confidence.
Fast-Paced Training – At Federico, we're invested in helping you to get the skills, experience and support you need to get ahead, without spending extra time in school. Get the relevant beauty career skills today's employers look for, without filler designed to drag out the program and drive up cost.
Career-Focused Programs – Programs are designed to get you relevant skills that can be used immediately upon graduation in the beauty field. You can enter the workplace knowing that you have the skills to succeed.
A Culture of Caring – At Federico, we see our students as family. Whatever program you choose, our friendly and knowledgeable instructors will give you the attention you need and help you to learn the skills that will lead to your new beauty career.
Top quality education. Great family owned business that takes great pride in the great stylists they educate.
Is a Rewarding Career in Cosmetology Right for You? Get More Info…
If you're interested in learning more about careers in cosmetology and exploring whether Federico Beauty Institute is right for you, fill out the form on this page to receive more information.
For immediate questions, call 916-418-7223
*Program length when completed in normal time.