History of Federico Beauty Institute
Providing High Quality Education For 70 Years
Federico Beauty Institute is a third-generation, family-owned and operated learning facility dedicated to providing a progressive, quality education to those interested in a successful career in the beauty industry.
When the first generation of Federico beauty colleges were established in 1946 by James Federico and his brother Sam, the visionary pair sought to open beauty colleges throughout the Central Valley. With school locations that spanned from Fresno to Sacramento, the two brothers successfully built the Federico brand together. Sadly, Sam passed away and the schools were divided between James, who took the northern locations, and Sam's wife, who took the southern locations.
Concentrating on the Sacramento region, James focused on developing an educational institution for beauty based on his philosophy: "a license doesn't earn a living, but an education does."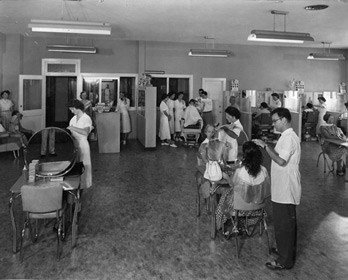 As the second generation, Gary Federico, who retired as President in 2009, embraced the Federico mantra of loving to learn and learning to love both in family and in business. It is this family culture that cultivates creativity, celebrates camaraderie and thrives on hard work.
The success of Federico Beauty Institute continues to build with the third generation. Each of the third generation Federico brothers instinctively and uniquely contributes to the educational atmosphere. Jeremy is now the President of the new state-of-the-art school facility. Adam founded and operates AJF Salon – the first Federico brand luxury salon – while contributing as an educator for the advanced styling courses and Joseph is the school's CFO and Compliance Director.
For 70 years, Federico Beauty Institute has continuously set the bar for developing well-trained, highly-qualified beauty industry professionals. Those same high standards are guaranteed for the next 70 years as the staff and faculty at Federico Beauty Institute move forward with a comprehensive, long-range plan dedicated to enhancing student programs that will ensure every graduate is more than prepared for a successful career in the beauty industry.
Get More Info…
If you're interested in learning more about Federico Beauty Institute and exploring whether this is the right path for you, fill out the form on this page to receive more information.
To speak with a friendly Admissions Advisor right away, give us a call at 916-418-7223.