We are pleased to announce a special one day barbering course with internationally recognized barber, Sid Sottung on March 11, 2013. Federico Advanced is committed to bringing the very best in advanced education to our Alumni and fellow industry professionals.
This class will be held on-site at Federico Beauty Institute on March 11, 2013; 10am- 5pm.  Cost is $200 (includes mannequin and lunch) but our Alumni receive a special $50 discount.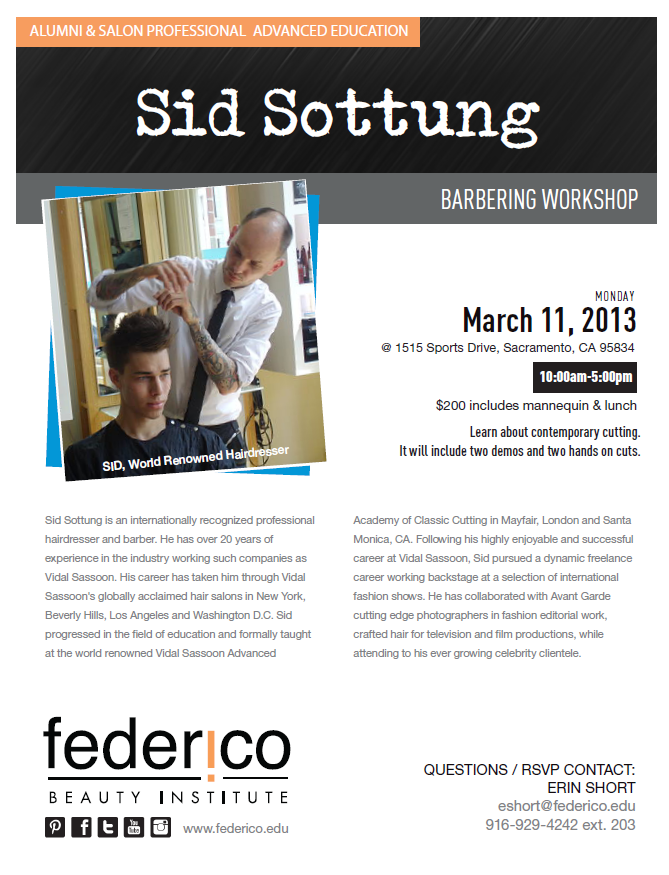 Sid Sottung joins us from the United Kingdom as an internationally recognized professional hairdresser and barber.  He has over 20 years of experience in the industry working such companies as Vidal Sassoon.  His career has taken him through Vidal Sassoon's globally acclaimed hair salons in New York, Beverly Hills, Los Angeles and Washington D.C.   Sid progressed in the field of education and formally taught at the world renowned Vidal Sassoon Advanced Academy of Classic Cutting in Mayfair, London and Santa Monica, CA.
Following his highly enjoyable and successful career at Vidal Sassoon, Sid pursued a dynamic freelance career working backstage at a selection of international fashion shows.   He has collaborated with Avant Garde cutting edge photographers in fashion editorial work, crafted hair for television and film productions, while attending to his ever growing celebrity clientele.
Interested in attending this class? Contact Erin Short, Student Services Coordinator, at 916.929.4242 ext 203 or [email protected] .