Carrie Caluya is heading up our newest program, Barbering.  Carrie began her career as a hairdresser 13 years ago during which time she also obtained her barbering license.  Having educated for the past 12 years, Carrie makes an excellent addition for our educational team.

What inspired you to be a barber?
I've always wanted to be a barber. It was always a dream of mine. Timing is everything. I decided it was time to do what I wanted and take my career in a different direction. Its been a long time coming. So happy to be doing what I love.
Why do you think traditional barbering is making a comeback?
Barbering has always been around. Its one of the oldest professions. Its unfortunate that as times have changed, so has the popularity of the barbershop. It used to be that a barbershop was the only place to get a haircut.
Then unisex salons  gave men another option.  The needs of a man went from getting a "haircut" to getting an experience. Men receive more services and use more products than ever before. This shift took the focus away from the barbershop.
I really believe men want to get back to what the barbershop represents; tradition, camaraderie . There's nothing as powerful as a "shave and a haircut" to make a man feel like a million bucks. Men also want a place where they can be a man. The barbershops out there now offer tradition with modern advancements.
I'm so proud to be a barber at this time of change. I'm especially excited to bring the tradition of  a straight razor shave back to popularity. Its an old tradition that takes great skill and mastery. I think every man should try it. Its the ultimate in pampering for a man.
Favorite moment in your class so far…
I love every minute in my classroom. There's never a dull moment. My students never cease to amaze me.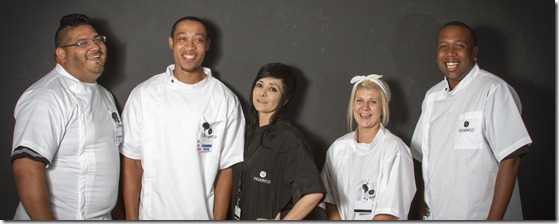 Are you interested in a career in Barbering?  Our next class starts October 8, 2013.  Call an Admissions Advisor today and schedule a tour 916.418.7223 !