On September 15th we hosted our 15th annual Salon Symposium. Over the years our Salon Symposium has grown exponentially. It started out with the intention of strengthening the local hair community, bringing together local salons and salon professionals to network with our students. This would allow students to meet with future employers in a setting that was less formal and intimidating than a standard interview, while also allowing them to learn about a salon's culture. It has since grown to include brands and a stage presentations that feature talented artist and speakers sharing their knowledge and skills that have been honed over years of working in the industry. Not just their knowledge on how to do hair, but on life as well. Business building, life skills, motivational speaking, developing your aesthetic; all topics are covered by our guest artists, providing information that is relevant to all levels of beauty industry professionals.
As usual we went bigger and better this year, featuring seven stage presentations and thirty booth participants. Our president, Jeremy Federico, did a fantastic job of hosting the morning, keeping things moving between each act and the quick stage changes. It was a busy morning, with speeches  from Adam Federico, Salon B and Color Zoom winner Derrick Zeno along with live Men's Cutting demos from Andis barber, Dave Diggs and Jamie Rourke of Schwartzkopf and RO Style Salon in Florida.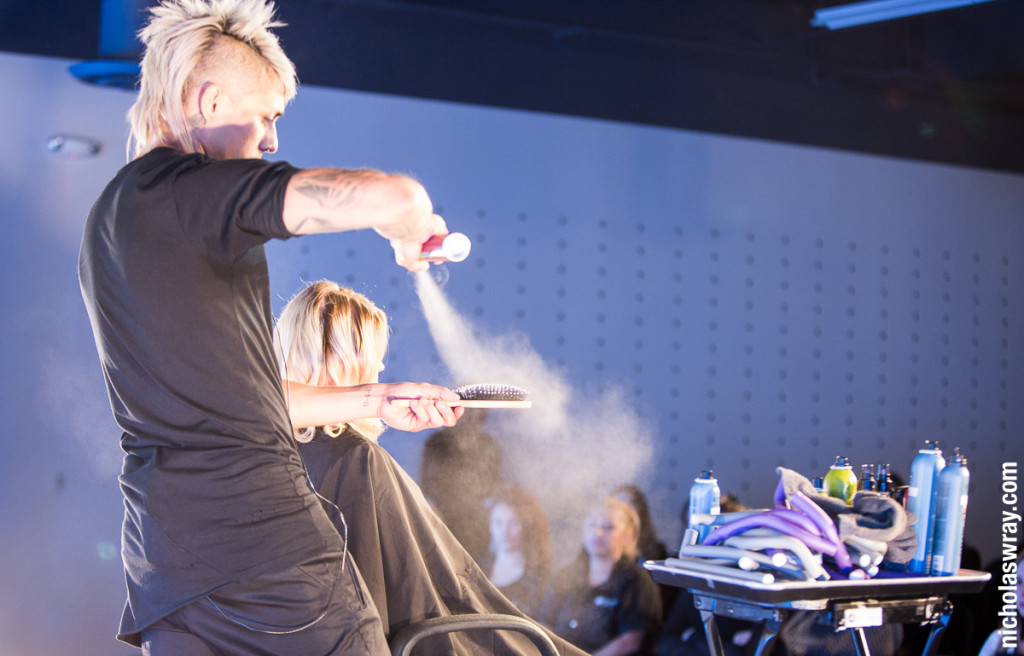 There were also live styling demos by Mikey Teeze with KMS and MUSE Art Haus. Marci Landgraf and MUSE have always put on an amazing show when they come through, and this time was no different! This year they had nine models on stage decked out in fantastically surreal white outfits provided by Richard Hallmarq of Project Runway. Her team completed their strong editorial looks on stage while giving tips and tricks for completing their looks that they've honed over their years of session work.
While the attendees broke for lunch, the staff and student volunteers executed a quick and surprisingly seamless room change to transform the ballroom into an exposition hall for the trade show. Once everything was up and running, students were able to visit with salon owners and brands to learn about what their culture was and what future job opportunities were out there. This year featured a good mix of cosmetologists, barbers, and estheticians. Brands like Image Skincare and MUD cosmetics got to be side by side with local businesses like Barber Blues, and Maverique Style House. We also had larger chains such as Great Clips out doing raffles and speaking with students about positions that were available at their many locations.
After a few hours of networking the day finally started to wind down. It was a long and exciting day and none of it would have been possible without all the hard work from the participating artists, staff and students that volunteered their time to be there bright and early to set things up and help everything run smoothly.
Thank you everyone who came out and we can't wait to do it again next year.