Excitement built as we set up the new Advanced Training facility for the Gerard Scarpaci Razor Advanced Class. Being able to offer quality advanced education to our alumni and local salon professionals has always been a priority for the Federico family. As James Federico said,"A license doesn't earn a living, but an education does."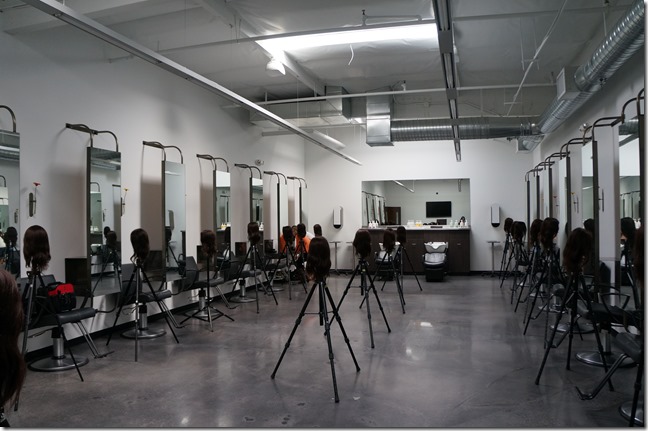 Offering this education in a state of the art creative space….well,  that is just icing on the cake!  Gerard Scarpaci,  Master Stylist at ARROJO and co-founder of Hairbrained.me,  joined us bright and early and began sketching out his theory on the chalkboard wall.
"Being a cosmetology school for 65 years, the natural progression for us was really to expand and create an advanced educational facility for the Northern California area.  "
"As a young stylist, I trained under Gerard Scarpaci at the Sassoon Academy and since then he has always been one of my favorite educators and mentors. It seemed fitting to have him out to help us celebrate this expansion and break it in." – Adam Federico, Creative Director of Federico Beauty Institute.
Gerard doesn't teach a "cut" he teaches a technique and salon professionals leave with actual skills that they are able to use behind the chair and translate into revenue.
He ensures stylists understand the hand positioning and dexterity behind the art of using a razor.
Moving on to the hands-on education, stylists put the theory into practice.
Adam helped provide a  one-on-one learning atmosphere.
"Having had the opportunity to travel to  the ARROJO Studio in NYC several times, I have gained an understanding the ARROJO methodology.  I felt it was my duty to bring that back to the stylists in my salon and also surrounding salons.   The goal is to elevate our level of craftsmanship and support education not competition." Adam Federico
"I loved this class.  It was really great to learn the differences between the Feather Plier and razors with guards.  I have been really scared to try the Plier, but Gerard gave the confidence I needed to take my skills to the next level.  He explained technical aspects thoroughly and in a way that was easy to understand " – Kaitlin R.
"Having been a Federico Student and now an assistant at AJF Salon, I feel so privileged to receive this type of world-class advanced education from such a brilliant and talented artist so close to home."- Nancy A.
"I think family run businesses are amazing and love the connection and close knit culture the Federico's have built.  It is a place I belong." – Gerard Scarpaci
Connect with Gerard Scarpaci on Hairbrained.me.
Interested in attending a Federico Advanced class?  Contact [email protected].