By Kay Henderson
Federico Beauty Institute had the unique pleasure of being invited to participate in the 5th Annual Hair and Fashion Battle produced by Marlette Berry. The Hair and Fashion Battle allows local Salons and Designers to showcase their designs and skills to the public and have them judged by local celebrity judges.  The participants are given a theme; this year's being Avant Guard, and must produce a look within said theme. There are also rules on time, models and content that must be adhered to.
Ms. Roketa Raiford, a celebrity judge for the battle in the past was approached by Berry to have Federico compete on the student level in this year's competition. Raiford states, "Trish [Avalos] and I have judged quite a few battles and have said time and time again, our students could do this. I was excited when Marlette approached me with the idea!!" Once our students were approached with the idea, many jumped at the chance to compete. While there was a lot of interest in the battle, we ended up with a crew of 18, consisting of 9 cosmos, 2 barbers and 7 esthi's.
Once we had our concept," The Mad Hatters Tea Party," our students went to work pulling ideas on looks. After the looks were chosen, instructors were tasked to show the students how to pull off their creations. Cosmo Educators Ms. Trish Avalos and Ms. Ro were on deck to show the students how to pull of the characters hair styles. Esthetics instructors Ms. Amanda Rose Kinney and Ms. Alice Andrews also assisted in showing our students how to bring their monochromatic visions to life.
From this concept grew an 8 minute production that included a beautifully executed ballet routine by AM Esthi Elizabeth Campbell, on stage hair changes by AM Cosmo Elicia Drayton and Barber Veronique Williams. Drama, modeling, color makeup changes and crowd interaction all pulled this production together.
Coordinating an event of this magnitude took over 60 hours of off schedule work by students and staff. Practices were scheduled on Weekends, Mondays and any other days around school, work and other outside duties. There were many nights spent sewing costumes, creating props, cooking meals and mixing our seamless soundtrack at student's homes to honor their commitment to themselves and their peers.
"This event, although challenging and time intensive, proved to be a true melding of the family environment that Federico embodies. There were esthi students feeding cosmo students that were doing hair because they didn't have free hands to eat. These students really did an incredible job of taking care of each other. Some brought food trays, others beverages, it was really something great and synergistic to be a part of." says Outreach Manager Kay Henderson.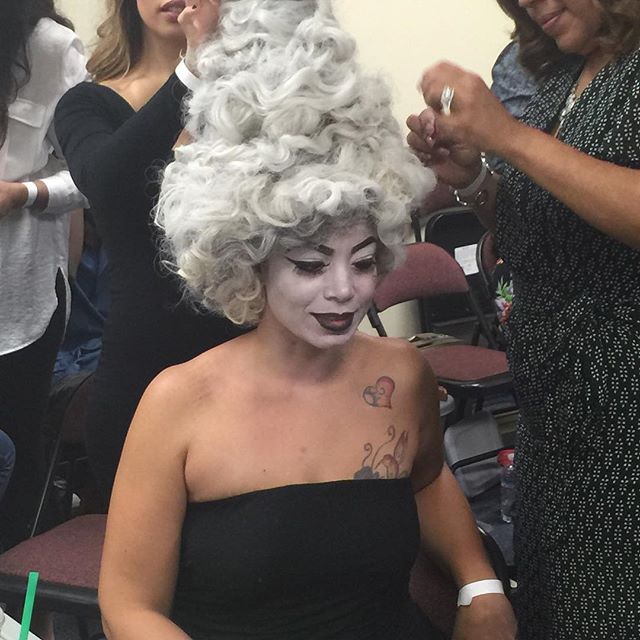 All of this hard work and sacrifice paid off as our students took Second Place over all in the entire competition, beating out 5 salons and 1 other competing school. "I was very impressed with Federico's overall performance; their skit really tied together their entire theme!" exclaimed Panel judge Derick Dennis.