By: Melissa Federico, LE and Beauty and Fashion Writer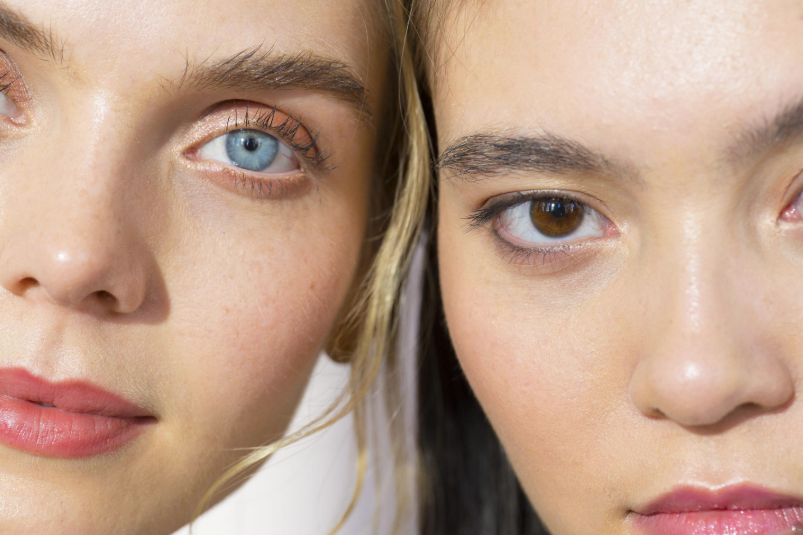 Hale (adj: Free from disease or infirmity; robust; hearty)
Hush (verb: to calm, quiet, or soothe)
When describing your skin, do you often find yourself referring to it as sensitive? According to Skin Inc. magazine, 44.6% of Americans believe they have sensitive skin. The funny thing is, "sensitive skin" isn't actually a clinical term. It has become more of a buzzword or a casual way of saying, 'My skin has issues, and I have a hard time treating it.'
At least that's how you may feel when product after product fails to bring balance for your skin. From allergies to reactivity, there are many causes for skin sensitivities including: climate, skin care products, medications, over-exfoliation, diet, pollution and hormones. When the severity of these sensitivities depends on multiple factors, it becomes even more difficult to treat sensitive skin. Most skincare lines available in department stores and spas have only limited offerings for sensitive skin types, and you're more likely to find common skin irritants such as fragrance, dyes and preservatives hidden within the ingredient list. It's almost impossible to treat sensitive skin without the correct formulation of ingredients that are both the natural and nourishing. If you want a healthy complexion, it's all about harmonizing the right products that are formulated with safe and sustainable ingredients.
Enter Hale & Hush, a product line that understands that sensitivity falls on a spectrum that can range from periodic sensitivity to a more chronic issue. Rooted in oncology cosmeceuticals, Hale & Hush is the only professional brand available to offer a full range of products and treatments catering to sensitive and health-challenged skin.
The entire line is strategically balanced for sensitive skin, and the spa experience. Regardless of skin types and sensitivities, everyone should be able to feel pampered with skin treatments and serums. Founder and licensed esthetician, Kris Campbell, has years of experience in the Esthetics and Biotech industry, and understands that conquering and preventing the challenges connected with these sensitivities, has to be done with gentle but effective ingredients. That's why each product is made using sustainable plants
Below are a few of their star products from the line that can serve several purposes within your sensitive skin care routine.
Hush Hydrate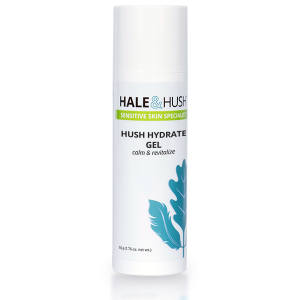 This potent blue gel is a multitasker that can be used as a mask or lightweight daily moisturizer. Hush Hydrate is formulated with black rice, aloe and other botanical extracts to promote healthy cellular aging, and boost moisture levels in the skin. The ingredients also alleviate discomfort from stinging and itching, to cool and soothe skin on contact. If there was ever an emergency healing ingredient to have handy – this would be the one.
Clear Future Toner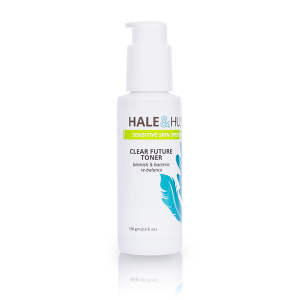 Suffer from rosacea and acne? This toner is your life-line. It will tame redness, help minimize enlarged pores and control sebum to help alleviate congestion, while protecting the skin's barrier for a more balanced complexion. The mixture of salicylic acid, mushroom, yogurt extract and yogurt powder act as a powerful probiotic for skin. It helps decrease trans-epidermal water loss, and issues caused by rosacea and the H. pylori bacteria. It's gentle and non-stripping so it won't irritate your skin, while helping calm inflammation and tame red capillaries.
Bio-Relief Powder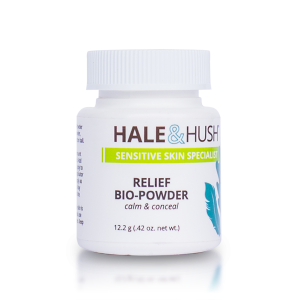 Eight botanical extracts help this powder act fast to heal and conceal redness. Made with analgesic and anti-inflammatory ingredients like licorice root heart and oat kernel heart. The powder relieves skin from redness, itchiness and irritation. A superior product to have for extremely reactive skin types, the powder can be used dry, made into a paste, or used as an additive to any other Hale and Hush product. Featuring soothing calamine and beta-glucan to help support healing and ease inflammation and infection. Mix this powerful dermatologist tested skin-aid with the Hush Hydrate to give your skin the extra soothing qualities it needs after a professional peel.
Broad Spectrum SPF 30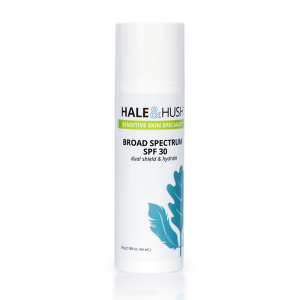 The perfect sunscreen for sensitive skin types has been invented. Featuring chemical-free, broad-spectrum UVA/UVB protection with natural zinc oxide, specialized amino acids, algae and antioxidants, this formula gives skin the anti-aging benefits it needs to defend against oxidative stress and DNA damage. Since chemical sunscreens are absorbed into skin and irritating for reactive skin types, this SPF is the answer for those who tend to breakout and get inflamed. The revolutionary mix of antioxidant rich extracts and ingredients like ergothioneine and red algae, help to brighten and moisturize skin, and to make it an ideal base underneath makeup.
Incredible Enzymes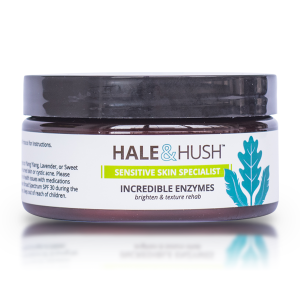 Have you been too afraid to try a professional exfoliation? When skin is looking dull, nothing helps more than sloughing off dead skin cells. This professional blend works on the surface and cellular level without causing a reaction due to its unique blend of botanical exfoliating enzymes and extracts. Naturally brighten and clarify skin to reveal a smoother texture and even skin tone. This treatment has been described as "a powerhouse against lackluster skin." You will only need one treatment to start seeing and feeling the incredible results.
As someone who has suffered for years from reactive skin, eczema, rosacea and numerous allergies it has always been difficult switching up or trying new products. I can say that it's worth trying out Hale & Hush, and not just because of my sensitivities. The line is filled with nourishing and anti-aging ingredients that are formulated into daily serums and products that have won multiple awards including the 2018 Dermascope Aestheticians Choice Awards and the 2018 ASCP Skin Deep award.
All Imagery provided by: Hale & Hush Products
Check out HaleandHush.com for ingredients and products that will work beautifully for any skin type.
Sources: