By: Melissa Federico, LE and Beauty and Fashion writer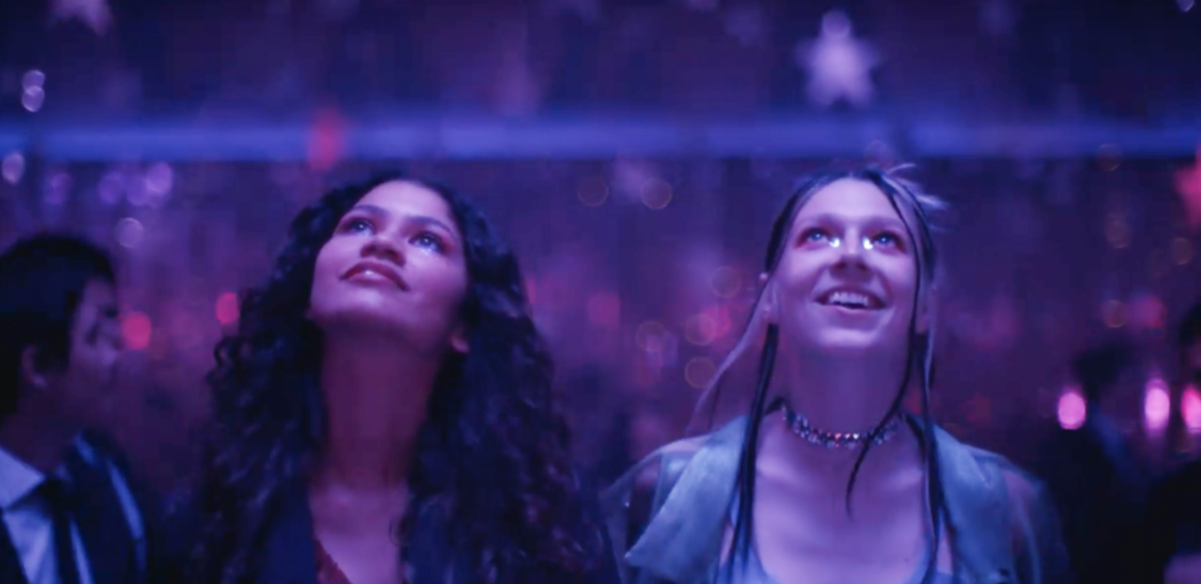 Whether you're a fan of the controversial HBO series or not – it's made an impact. From feed chatter to fashion week, Euphoria-inspired makeup has booted natural beauty trends in favor of playful graphic liners, washed punchy colors, negative space eyeshadows, gemstones (lots of them, everywhere), and whimsical designs.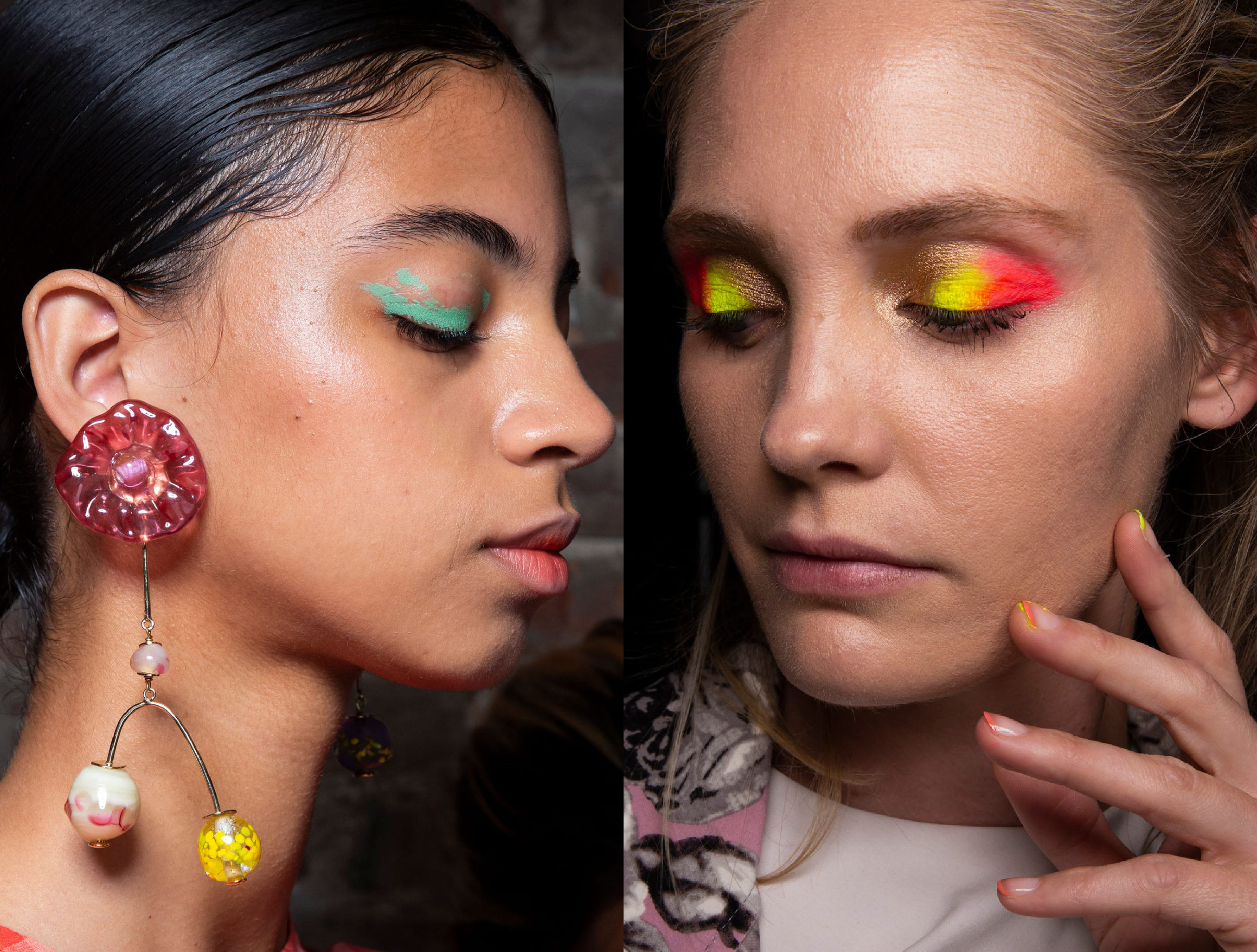 With Halloween right around the corner, you'll be eager to start practicing with the same products used by the Euphoria makeup department. But, why stop there? The latest trends on the runway demonstrate that these customizable cosmetic looks are wearable on anyone – anytime.
Honestly, we love that for you.
Glamstones
Maddy Perez knew who she was from a very early age – anything but basic. Her fully coordinated head-to-toe looks always feature a nostalgic beauty root. From 90s-inspired lip liners to classic 60s wings, she manages to pull off the glam and pageantry while keeping everything rooted in 2019 with the addition of gemstones, pearls and gold studs glued over ombre eyeshadow.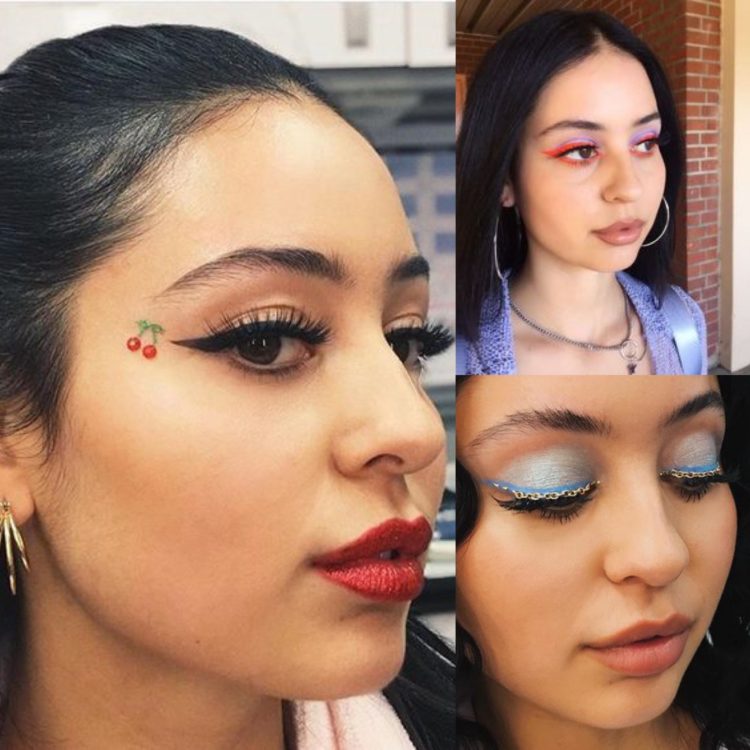 If there is one Euphoria trend that we will see in IRL, it'll be the random placement of gemstones. Marc Jacobs took note with obscurely decorated rhinestone eyebrows while over at Pyer Moss it was all about redefining 80s glam with ruby-studded eyes. The unique placement of gemstone hair designs at Khaite came off very "East Highland Cheerleader" and the crystal and pearl decal adorned faces at Area had the same playful and hopeless romantic vibes that makeup artists Kristen Sage Coleman @kirinrider and Makeup Department Head, Doniella Davy @donni.davy created for Maddy over the eight episodes.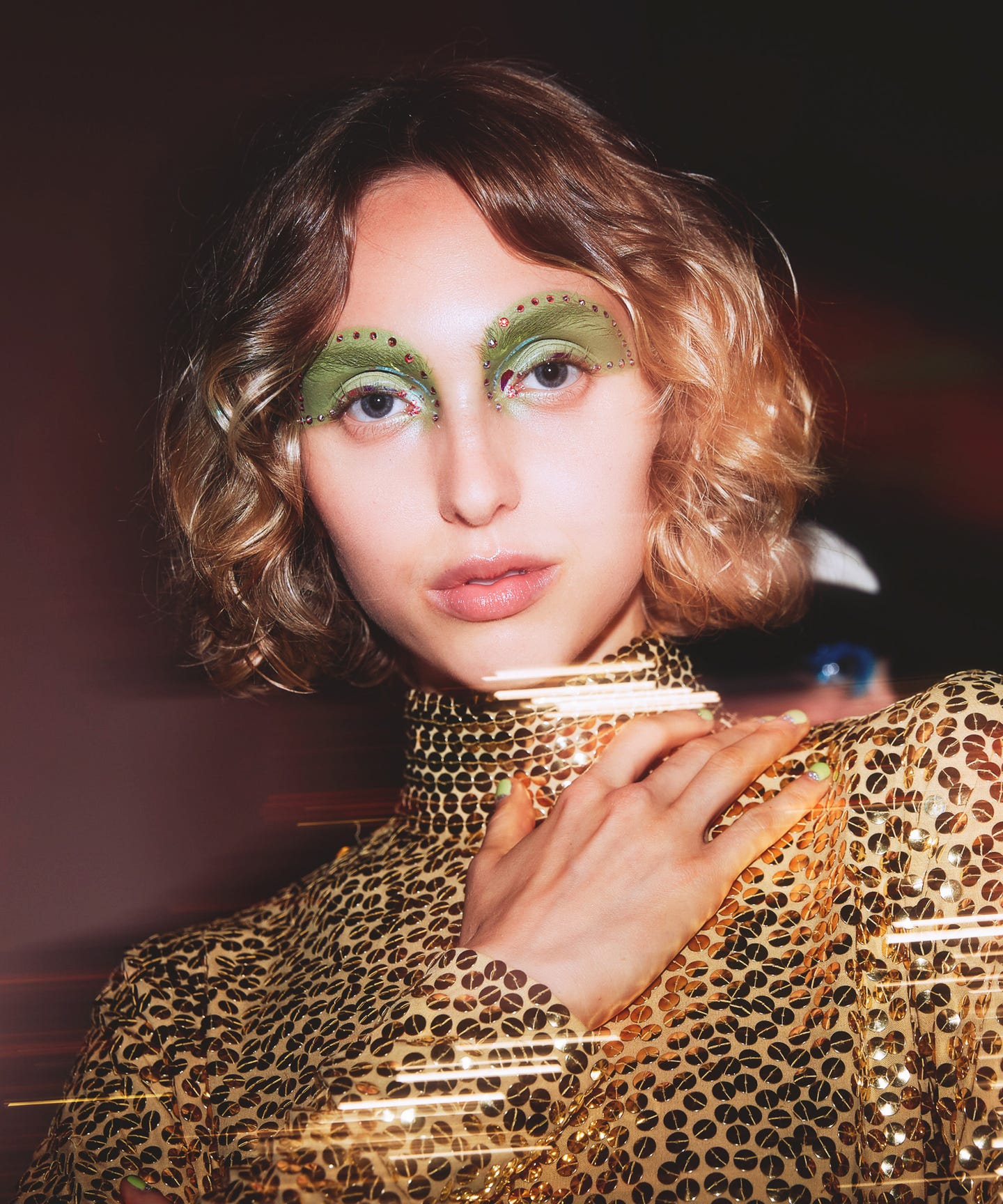 To get the same draftsmanship at home, Coleman offered up a few tips on her Instagram. She started with a light application of Armani Beauty Luminous Silk foundation and an eyeshadow base like Two Faced Shadow Insurance. With intense eye looks, she often left brows minimal but brushed up to keep everything balanced.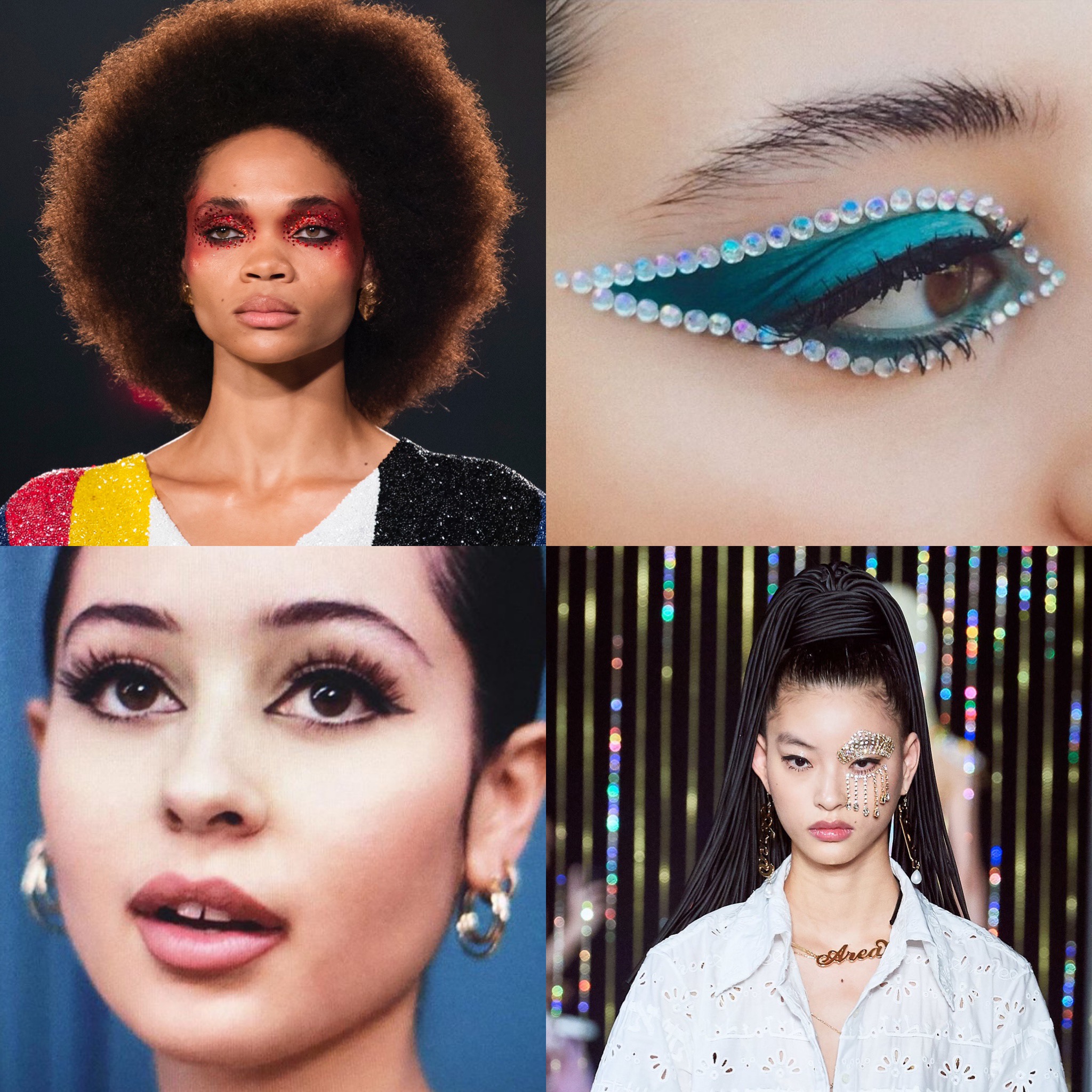 The trick with the gemstones is to individually apply each gem with lash glue, tapering the sizes of the gems. "These subtle details are what make these technical looks so clean." She later posted in response to inquiries that they get the gemstones on Amazon. "Sometimes a simple gem placement is all you need."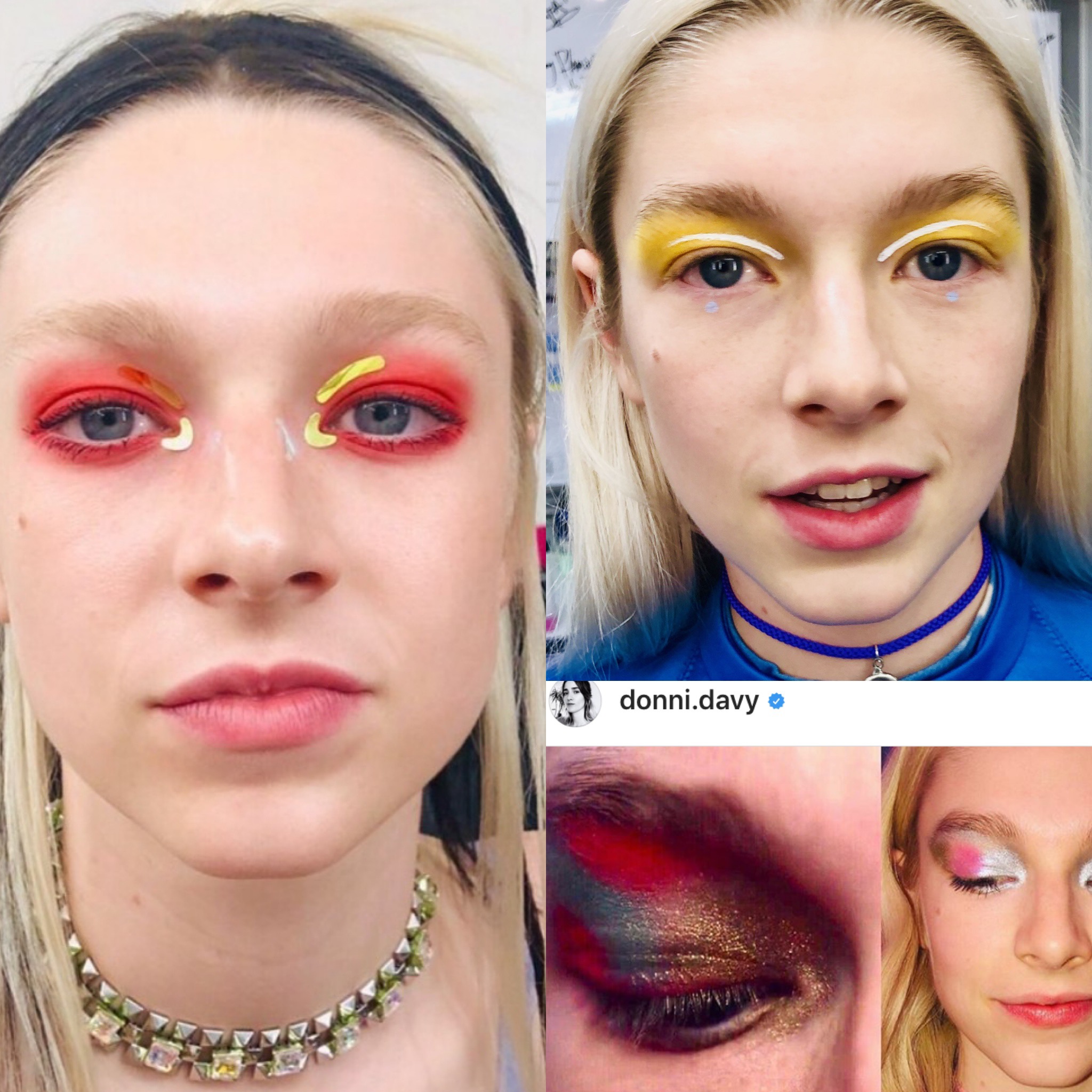 If you're more of a Jules or a Kat, looking to expand on the fantastical and darker elements of your look, Davy often used neon water activated eyeliners by Suva Beauty and iridescent eye-framing stick-on liners and 3D eye spikes by Face Lace. Laurence & Chico brought the same energy with color and Face Lace appliques to the runway to give their collection a futuristic flow.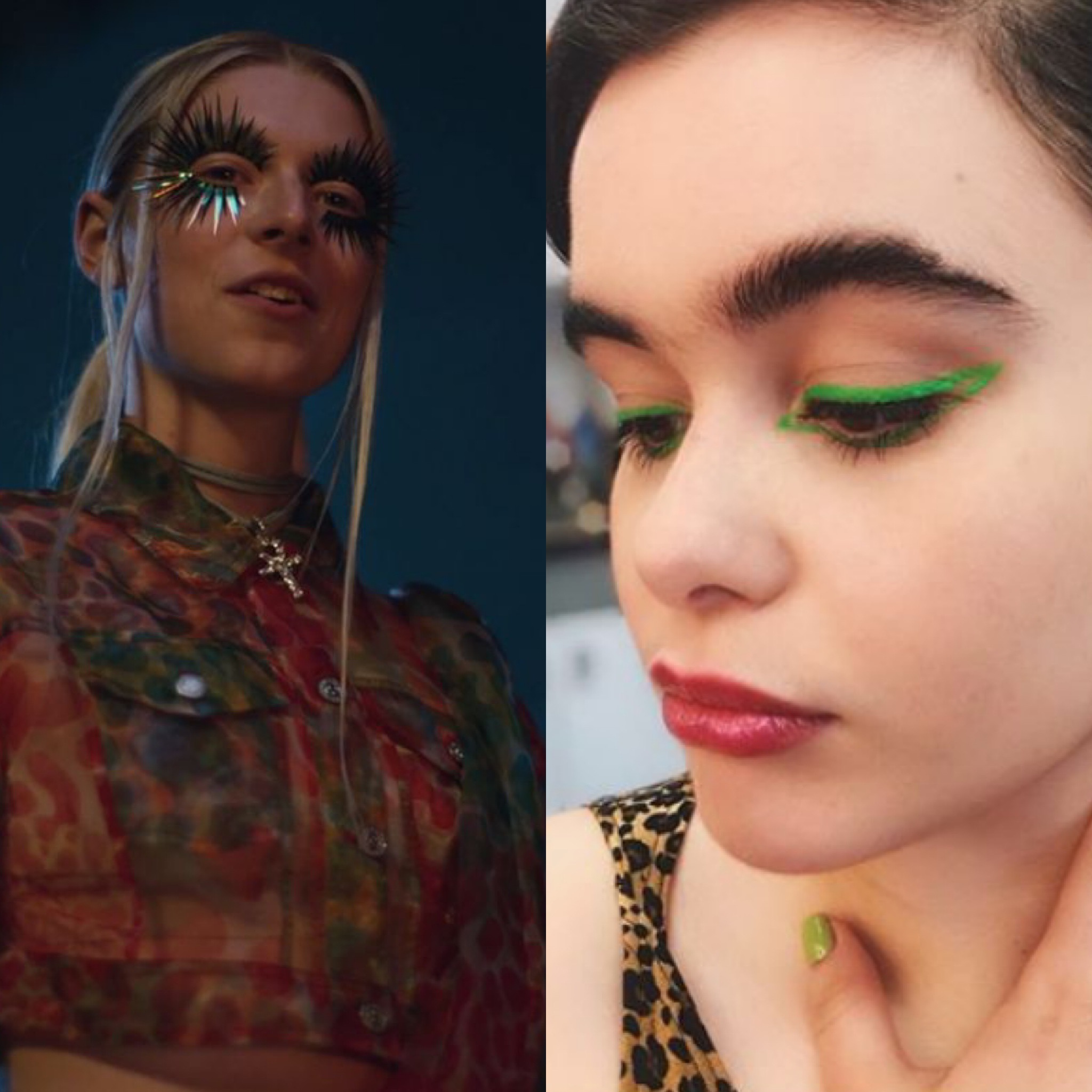 OD on Glitter
"We used a lot of Lemonhead.LA gel glitter – that was just insane on camera." At some point in the series, Coleman even painted glitter on Nate and the mess-free glitter brand just released a limited edition Euphoric Glitter Paste Squad Set – that's already back-ordered. To overlook glitter would be leaving out a key trend that ties into the youthful emotions and events of each character and episode, think Rue's "Sad Clown" at the carnival (another great Halloween look).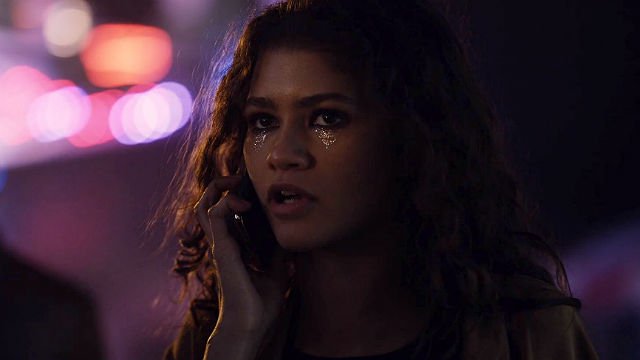 This trend has a less technical approach and since we are riding the high of the "slept-in glitter look" placement isn't important. Labels like CDLM and I Love Pretty's favored a lightly dusted glitter across eyes or trickling down like tears, reminiscent of Rue's Marlene Dietrich-inspired Halloween look.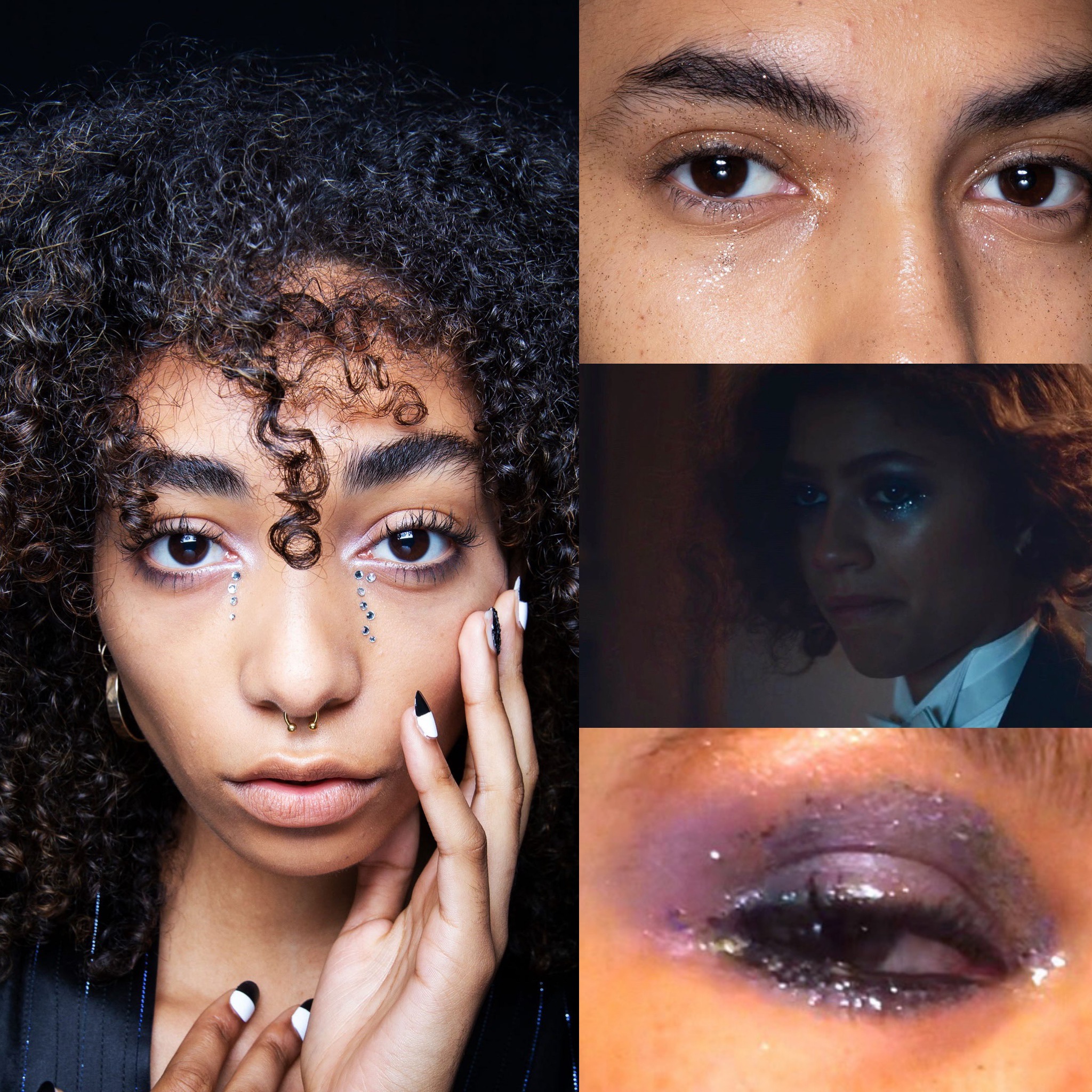 To create this look, Davy kept skin clean and minimal with a face and body foundation from Mac. She built up a carefree intensity of purple color on lids with Kevyn Aucoin's Electro-Pop Eyeshadow Palette. Then she dabbed a grey glitter Spacepaste from Lemonhead.La over and underneath eyes. The unique gel formula helps the glitter stay in place, but the less perfect the better, since Rue wouldn't spend hours primping and preening.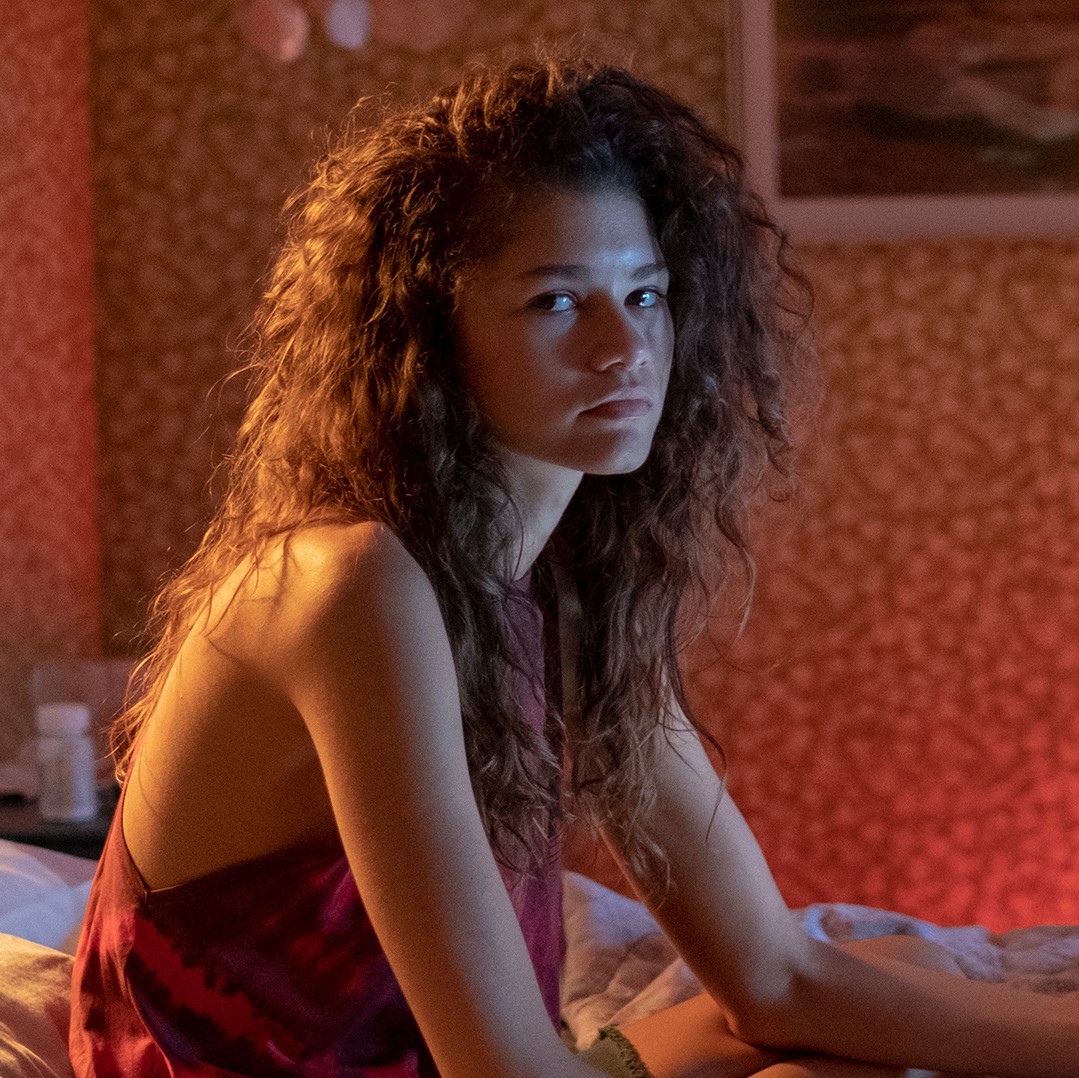 Doin' it all for color
If Jules crying neon orange tears at dawn isn't enough to make you want to try graphic eyeliner – well, we get that. Bold liners and washes of color are not just a theme through the series, Helmut Lang, Jason Wu, and Chromat all added pops of exaggerated color to lids. Ulla Johnson and Jonathan Cohen stuck to a wash of abstract and smudged liner as a fun way to play with the negative space trend.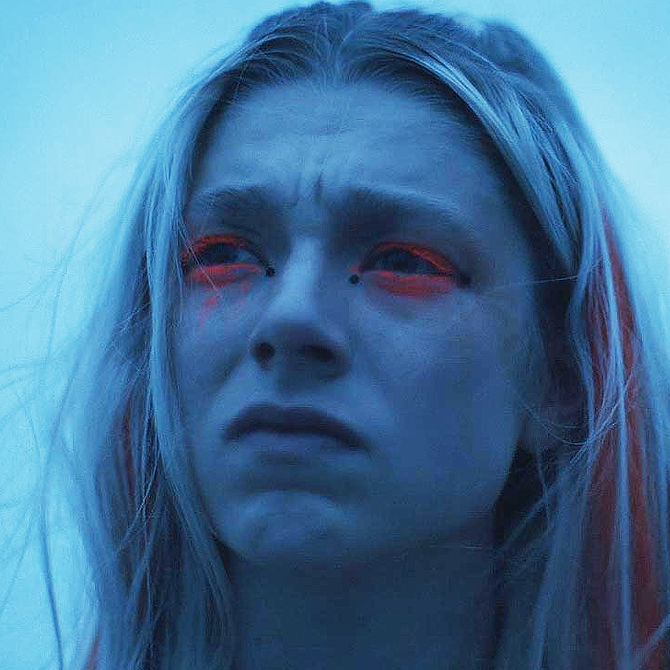 Davy relied on NYX liquid liners, Colourpop Cosmetics eyeshadow palettes, and Urban Decay 24/7 eyeliners applied with various brushes to achieve the bold and technical looks on Maddie, Kat and Jules. If you're intimidated about using a powder eyeshadow as a liner as Davy and Coleman often did for a softer look, you can save yourself time and get the same vibrant punch from an eyeliner pen. Dior just launched a line of limited edition flexible felt tip pens that come in intense and trendy pastel hues.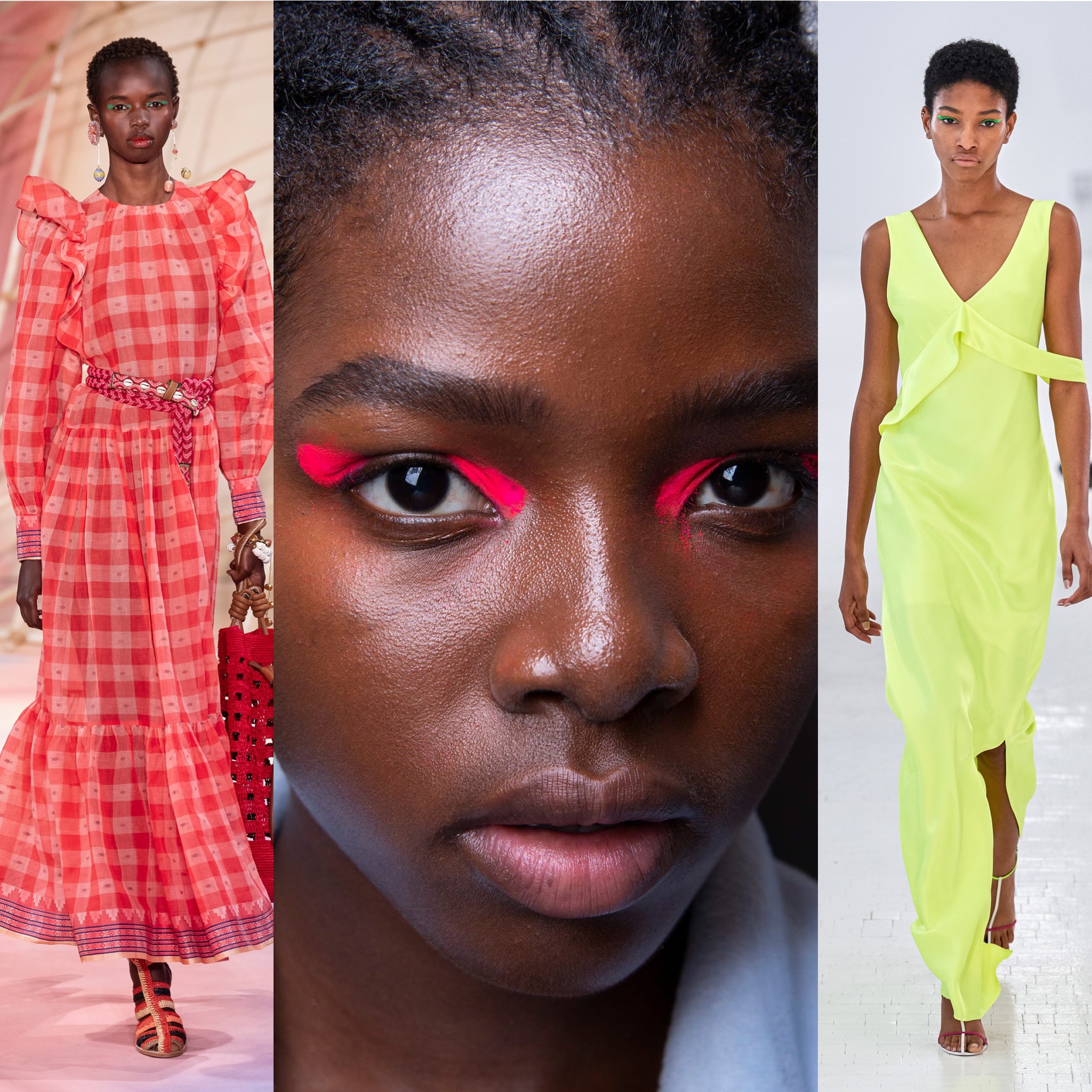 The dynamic makeup serves as a form of self-expression for all of the characters growing up in Gen Z and the whimsical eye designs and stickers are a youthful avenue for creativity. Cynthia Rowley, Rosie Assoulin and Anna Sui all tapped into this unique trend with dreamy washes of punchy colors and white puffy clouds. Davy commented that she used white NYX and Lime Crime liquid eyeliners to create the clouds and circle art around Jules eyes but states that any white liquid eyeliner and fine tip brush will work!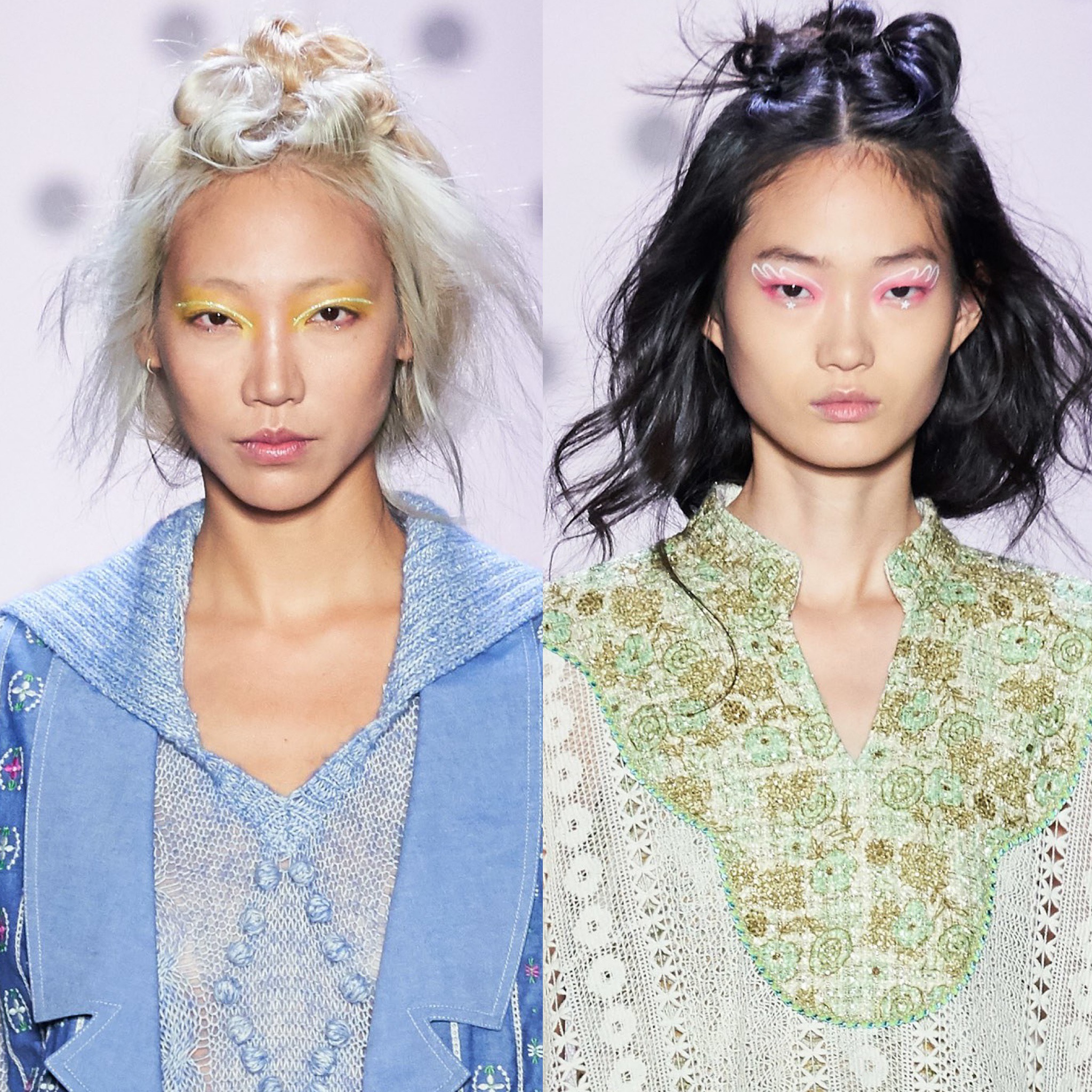 Fans can only guess the direction of beauty trends for Season 2. But if you're ready for another hit of Euphoria makeup, look out for my follow-up post on the three-iconic fantasy looks to try for Halloween.
Get ready to rep East Highland.