By: Melissa Federico, LE and Beauty and Fashion Writer
With this year's award season officially ending, we're sure that all the celebrities and their respective glam teams can finally relax and take a breather, but let it be known that we have no intention of stopping our obsession over all the red carpet beauty looks.
We may not be able give you an Oscar, but we can help you look like you deserve one, with this round up of the most covetable beauty tips straight from the celebrity glam squads.
Skincare For the Win
We've said it before and we'll say it again…Great makeup starts with great skincare. If you ask any makeup artist, at the core of that stunning look is super plump and hydrated skin. The products highlighted below prove that you don't need to break the bank to look red carpet ready.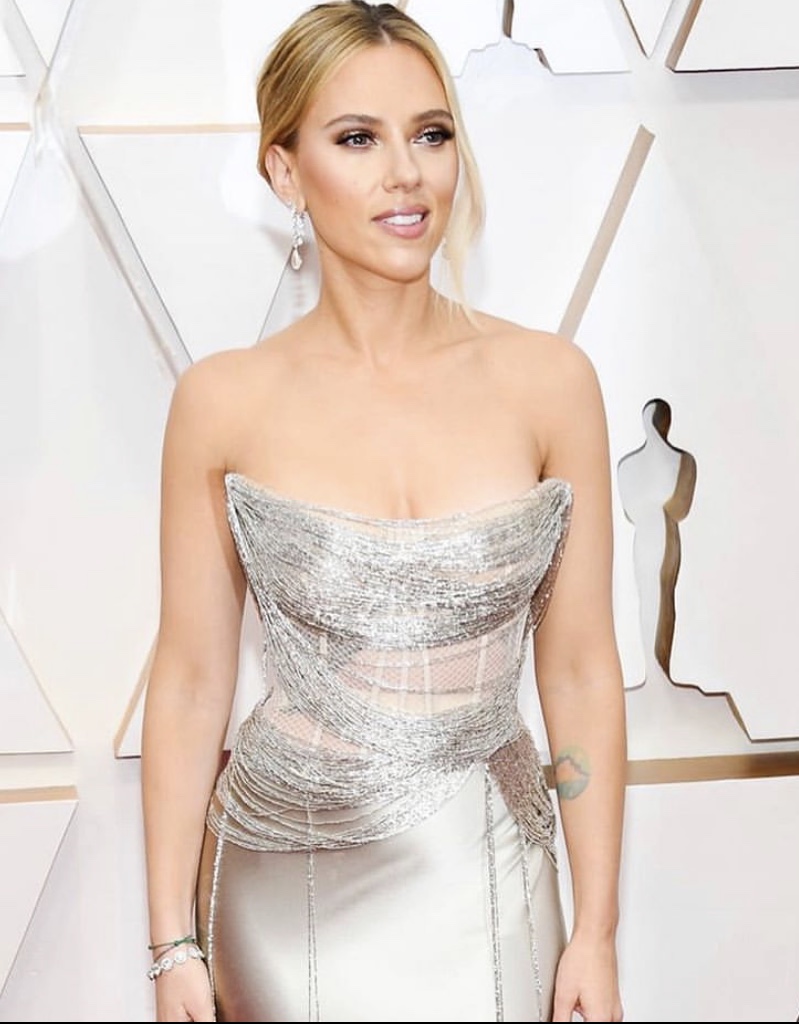 Scarlett Johansson may play a badass on the big screen, but in real life she prefers to work with aging, rather than fight against it. She explains, "I think you realize when you get older, you don't need to be as stringent with your cleaning. It is probably better to use cleansing milks and creams, and things that are more gentle on your skin. So I've changed my whole beauty regimen to just using milk cleansers and things that are really moisturizing."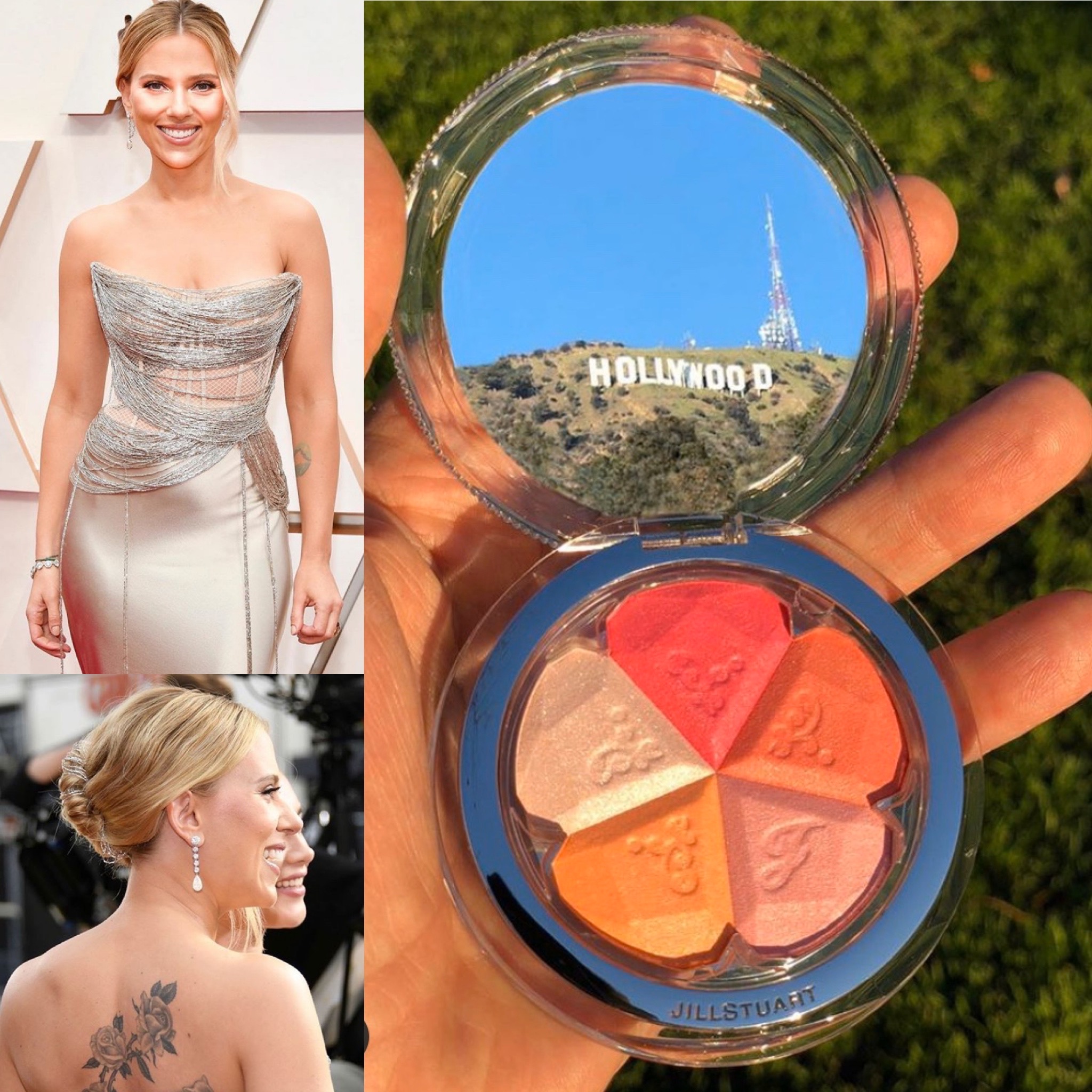 This gentle and moisturizing approach has paid off during award season, notably the Academy Awards. Her skin care and makeup guru Frankie Boyd used an affordable line called The INKEY List to prepare and hydrate skin. For enviable glow and plump skin, Boyd relied on their hyaluronic acid packed serum, and lightweight moisturizer made with hemp oil to energize the skin. The finishing touches to Johannson's look came from Jill Stuart Beauty's Bloom Mix Blush compact. Boyd posted imagery on his IG ahead of the Oscars, and we're currently in a fluster to get that matching highlight to go with our hydrated skin.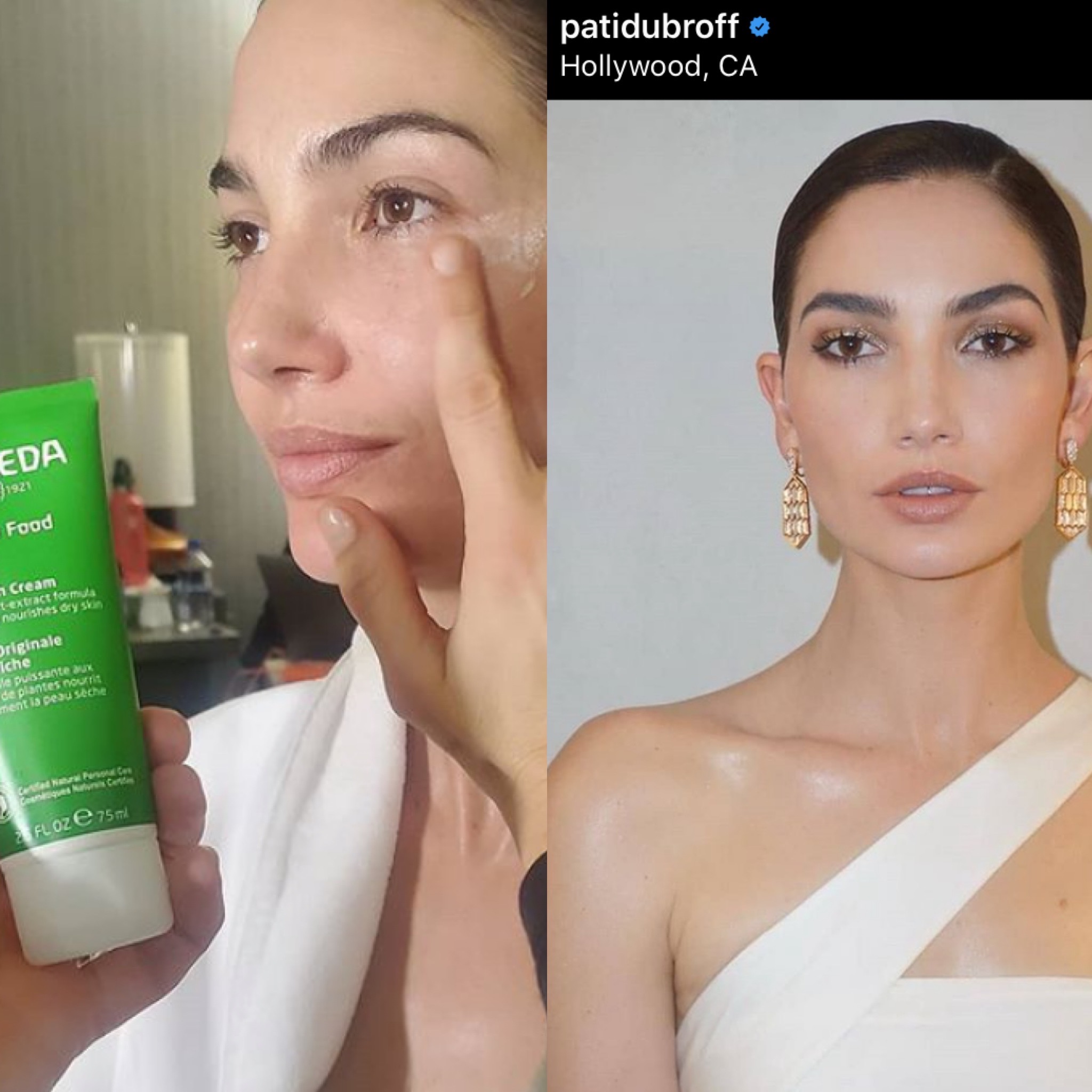 Let's not forget about the Vanity Fair After Party. It serves up its share of fashionable frocks and beauty looks too. The sexy simplicity of Lily Aldridge's Gucci by Tom Ford dress was striking, but it was her fresh-face that left us inspired. True to form, Lily Aldridge stuck to a natural brand choosing Weleda to keep her skin soft and natural. Makeup artist, Pati Dubroff, started by cleansing Aldridge's skin with Weleda's Gentle Cleansing Foam, before applying the nourishing plant extract cream –notably called Skin Food. Their Awakening Eye Cream features pomegranate seed oil to firm the delicate skin under the eyes, making it the perfect product for adding that extra touch of youth and radiance to any beauty look.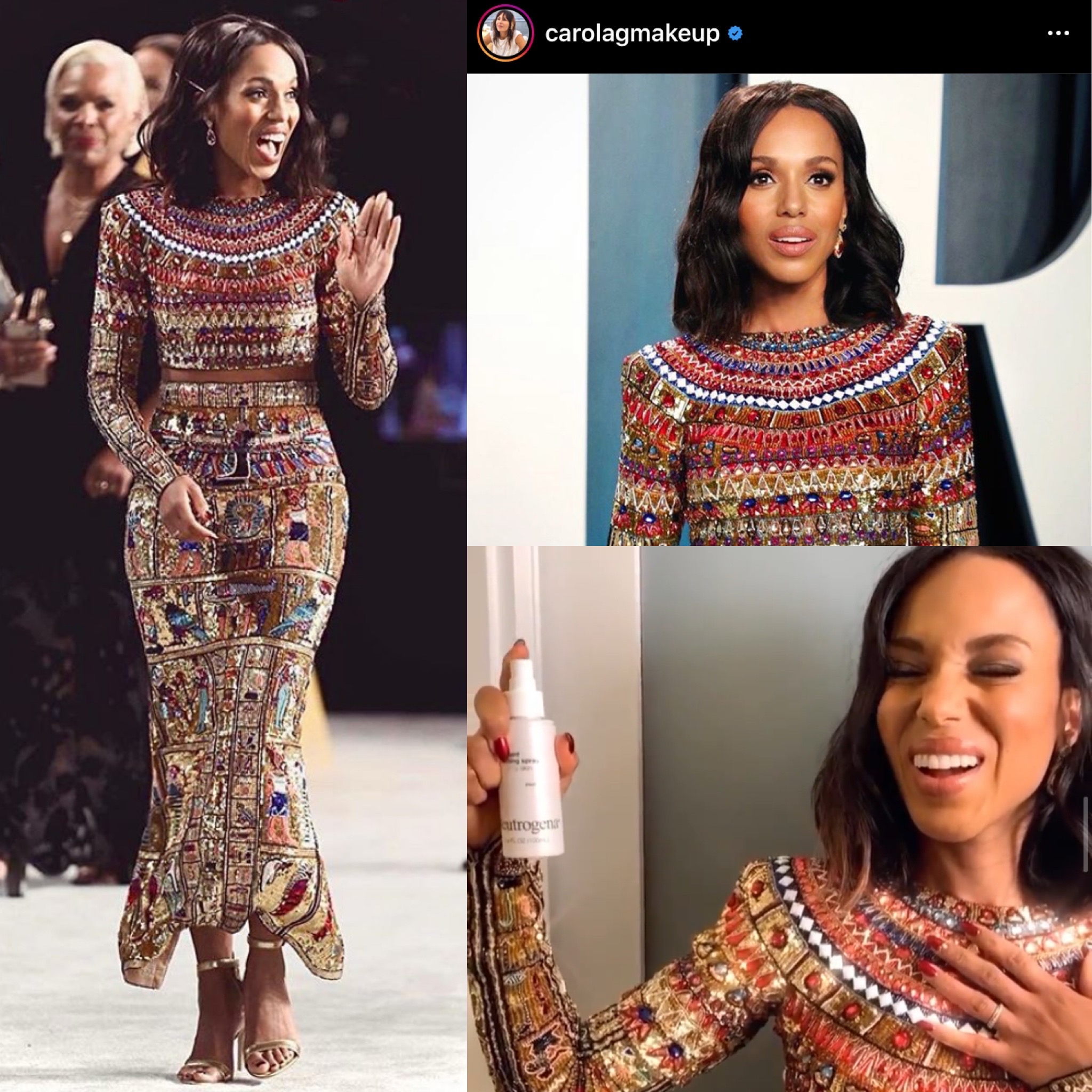 Kerry Washington used peptides, primers, and setting sprays to keep her skin and lips fresh and plump for the flash of a million cameras. Makeup artist Carola Gonzalez used new products from Neutrogena including the Healthy Lips Lip Plumping Serum, Hydro Boost Glow Primer + Serum and the Healthy Skin Radiant Setting Spray before applying makeup. The result is a gorgeous and natural dewy glow, all thanks to the ingenious hybrid serum and primer that features a purified hyaluronic acid concentrate, and a setting spray that is loaded with antioxidants and peptides. This combination will keep make-up in a place, and give you a healthy complexion without breaking the bank.
Red Lip Stunners
Glossy, matte, blood or brick. It doesn't matter what shade you choose when it comes to a red lip this season. We're loving the entire range of colors and textures offered up on the red carpet, as it's proven to be an essential go-to for a minimalist glam look. More important than the right red are the accoutrements that go with it to create a red-carpet-ready face.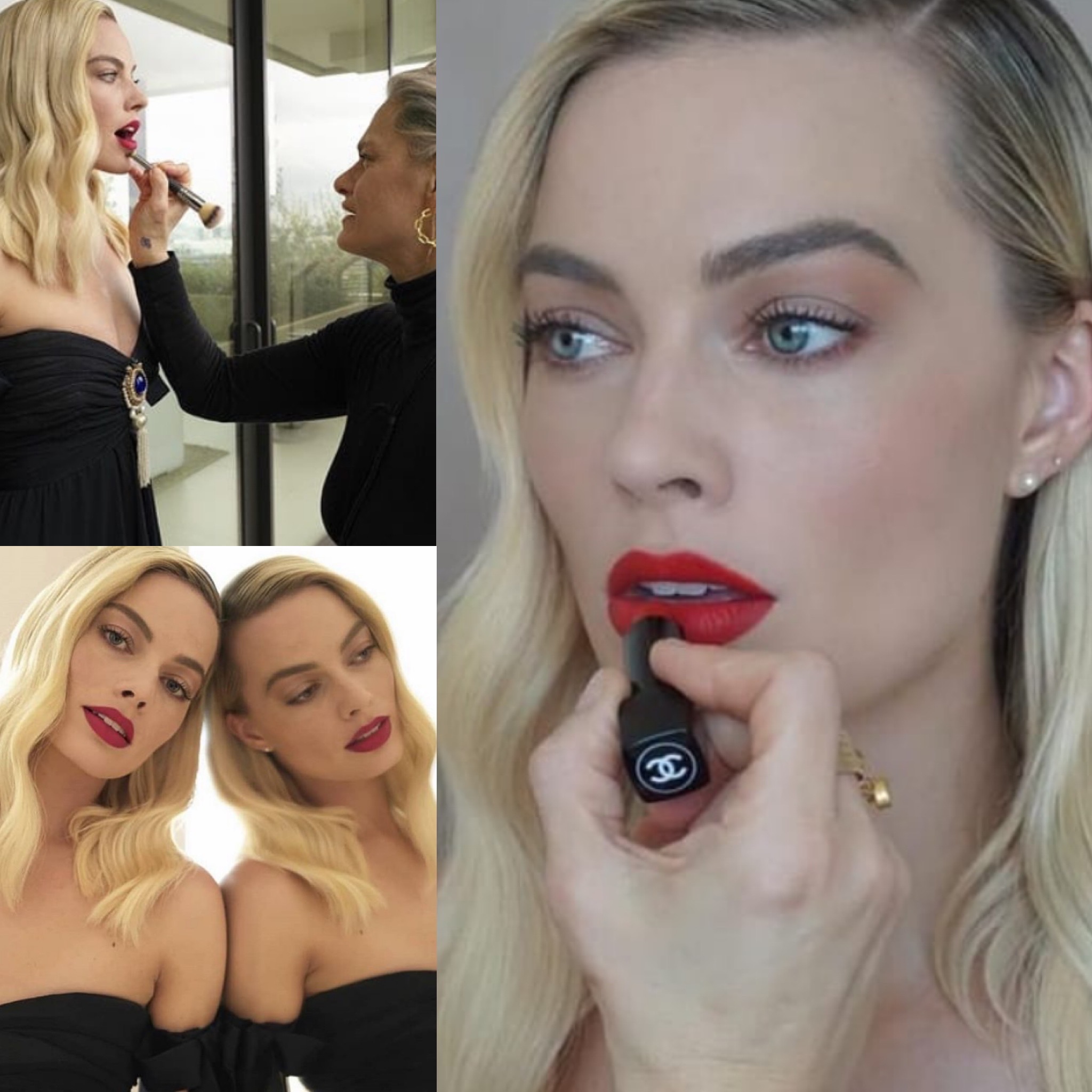 Our biggest takeaway from this red carpet season is that you can never go wrong with a classic -or a 90s Chanel gown. A matte red lip worked beautifully with the midnight blue of the 90s nostalgic Chanel gown worn by Margot Robbie. When opting for a trendy matte texture in lipstick, Dubroff notes that it takes a little effort to pull off that professional finish, "When wearing a matte lipstick, prep first with a hydrating balm to keep lips feeling soft and comfortable."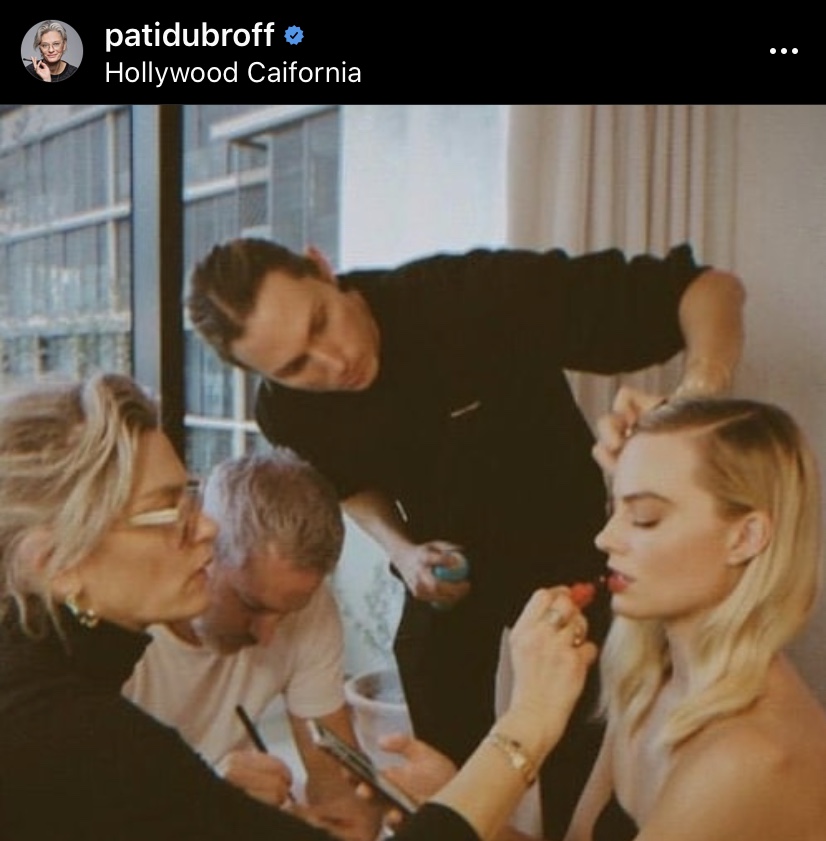 While this classic-cool look might be centered around Chanel Beauty's Allure Velvet Extreme lipstick in Ideal, Dubroff made sure to keep everything else on-trend and effortless. She layered the Ultra Le Teint foundation for a smooth and even complexion, before applying the new Le Volume Stretch De Chanel mascara. Dubroff went with a strong powdery brow created with micro-strokes from the Chanel Le Palette Sourcils to balance out her bold lip, smooth blonde waves and strapless bustier gown.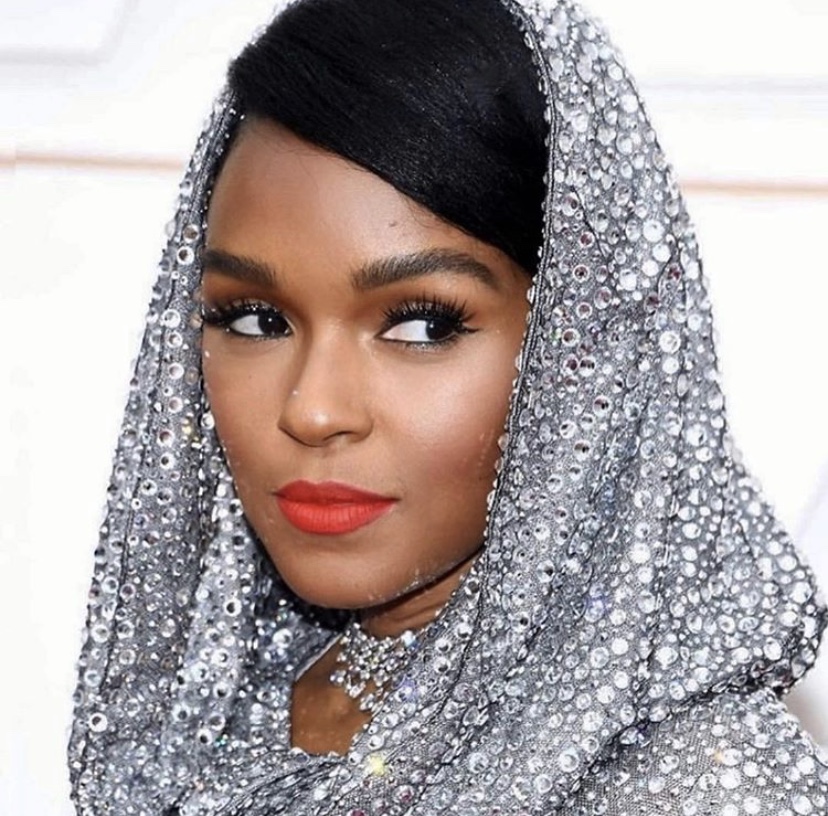 All that glitters isn't gold -it's Janelle Monae and the 168,000 crystals on her Ralph Lauren caped gown. Makeup artist Jessica Smalls didn't want the makeup to compete with this lavish hooded look, so she kept it minimal. A fresh face, a pop of red lipstick, and long voluminous lashes from Lashify capture an effortless look. It's not about a specific shade of red lipstick that makes this look come together, but the detailed prep work. Smalls shared the regiment on her Instagram.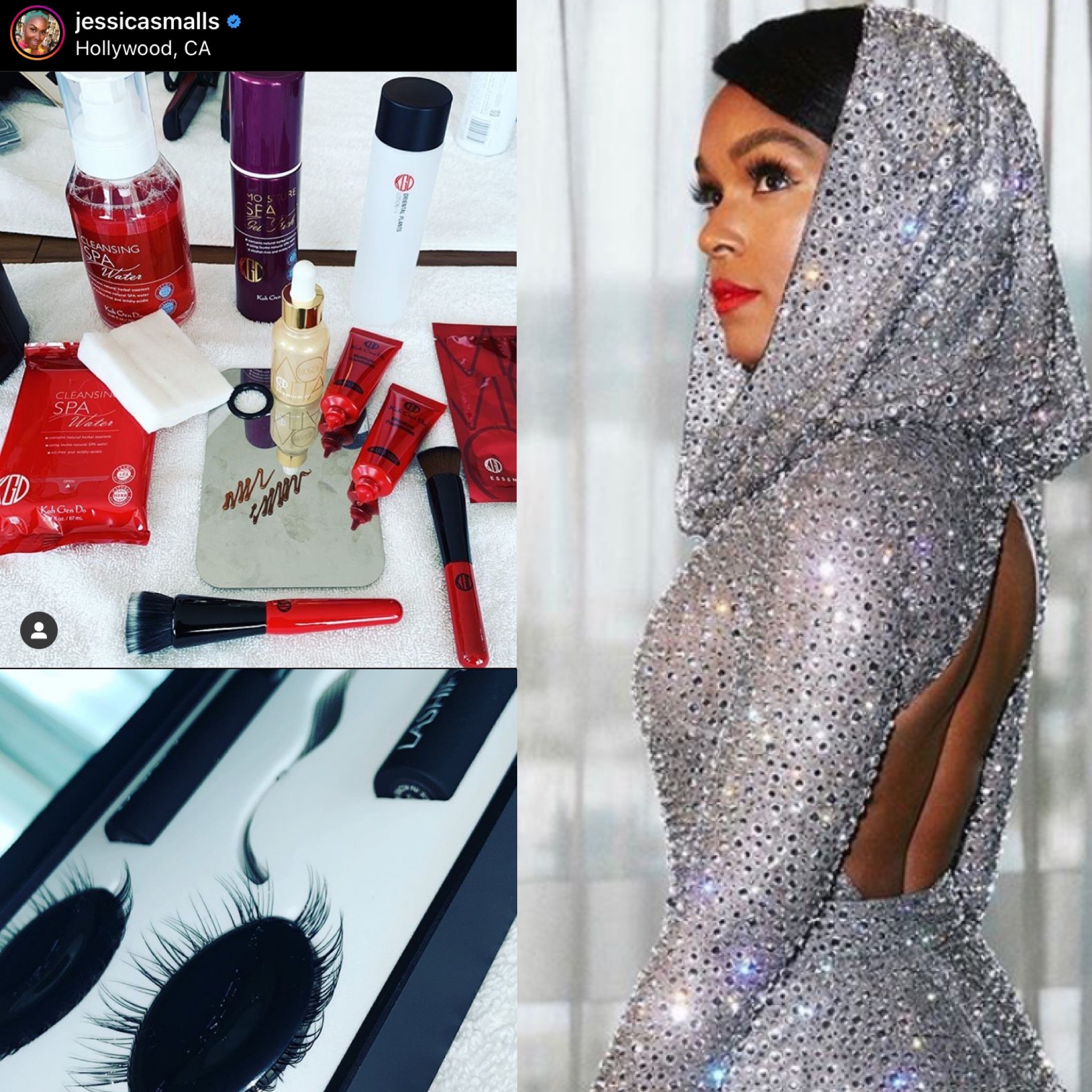 "I wanted Janelle to shine like the star that she truly is….so I decided to do some major skin prep and give her a classic glam look. I cleansed with Koh Gen Do's Oriental Plants Facial Wash and rehydrated her skin with a mix of 2 pumps of KGD Oriental Plant Essence and 2 drops of their T3 Premium Oil; I find mixing this makes application easier. I waited for this layer to sink in a minute or two. After, I applied KGD's All In One Moisture Gel Rich. Next using KGD's super soft foundation brush, I mixed then buffed in their Maifanashi Moisture Foundation to get an airbrushed effect."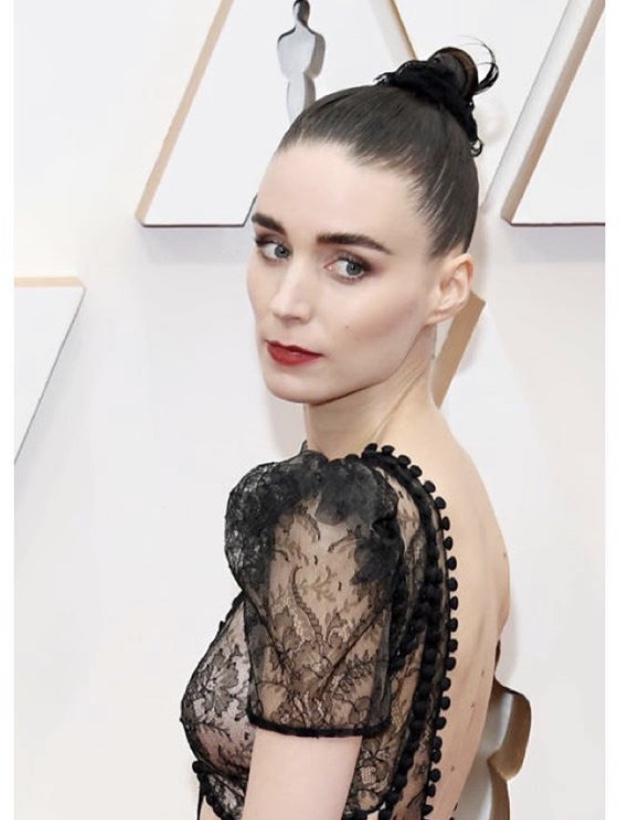 A dazzling fresh face and a bold lip, that's worthy of an award itself. Kate Lee served some elegant looks on the red carpet with Charlize Theron, but the fresh and bright complexion that she paired with a deep blood red lip on Rooney Mara is what got us excited. This sultry and deep shade was the perfect addition to accompany Mara's recycled Alexander McQueen gothic lace cutout gown.
To cop this look for your next date night, keep your complexion clean and minimal so your lips are the focal point. Try Rouge Allure Ink Fusion in Rouge Noir, and skip the over-flushed blushed and contoured face. Opt for a trendier way to add dimension to skin with a touch of glow drops incorporated into your base foundation for luminous skin. From her Instagram, we can tell that Lee favors Chanel Beauty, and there is no doubt in our minds that she tapped the high points of every face she made-up with the new Le Blanc Rosy Light Drops too.
Bronzed Beauties
The Oscar might be gold, but bronze is the winning metal tonight. Of course, we are talking about beauty looks and how this glitzy color can really make a big impact.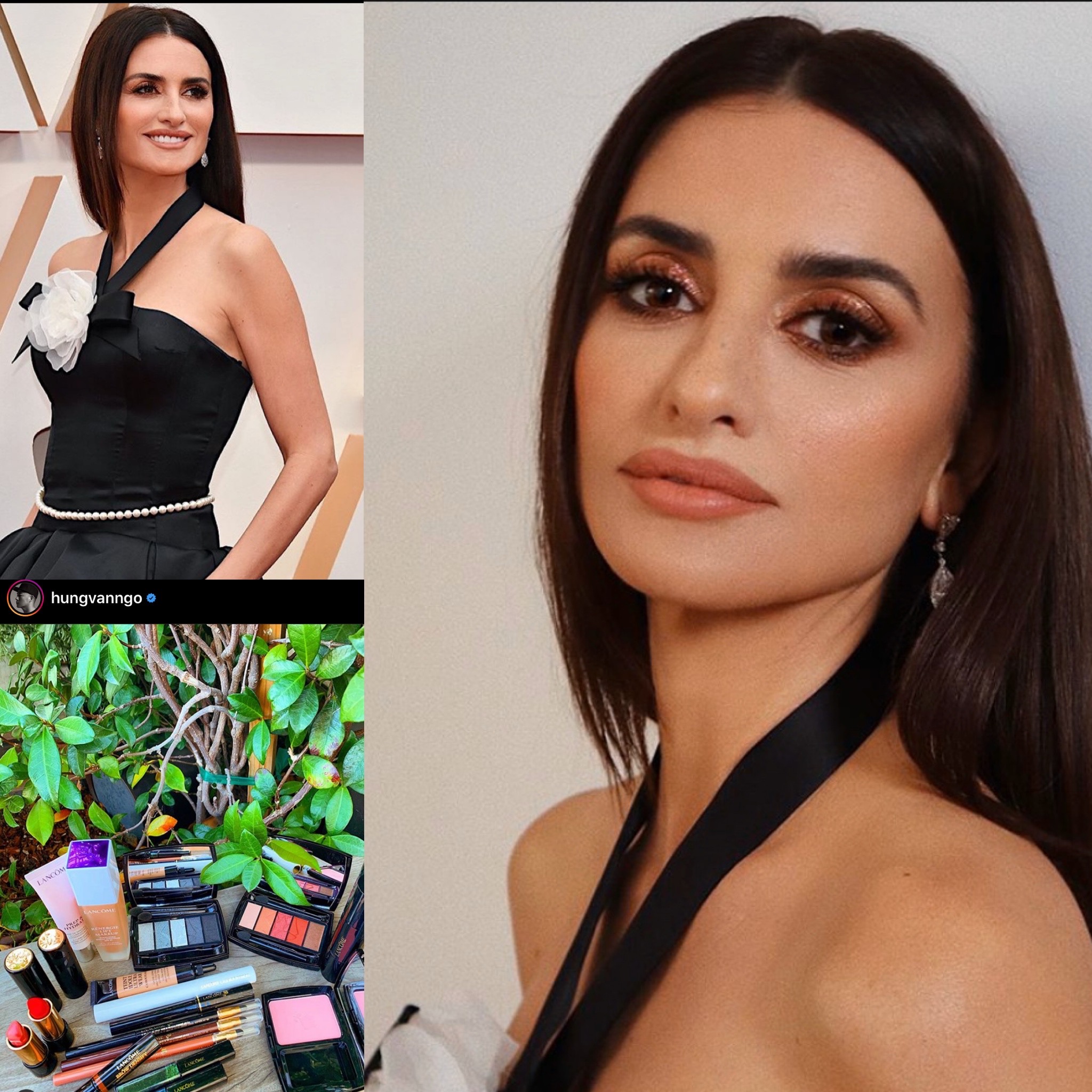 Image | Hung Vanngo (top left, bottom left, right)
Penelope Cruz is a timeless beauty, and her smokey bronze eye, and a tawny satin nude lip perfectly complimented her black and white Chanel haute couture 90s inspired gown. Hung Vanngo prepped her skin with Lancome Prime It Boost It All Day Eyeshadow Primer before applying the silky sheen shades from the Hypnose Terre de Sienne eyeshadow palette. He added dimension to this look with the Le Stylo eyeliner in Bronze Foil, and Bruns Frivole before lacquering lashes with Hypnoses Drama mascara. If you think you can't wear a nude lip with a bronze eye -think again. The addition of a slightly overland lip from the Le Lip Liner in Ideal and L'Absolu Rouge Ruby Cream Lipstick in Couer De Sienne really played up the intensity of this bronzy look while making lips look full and pouty.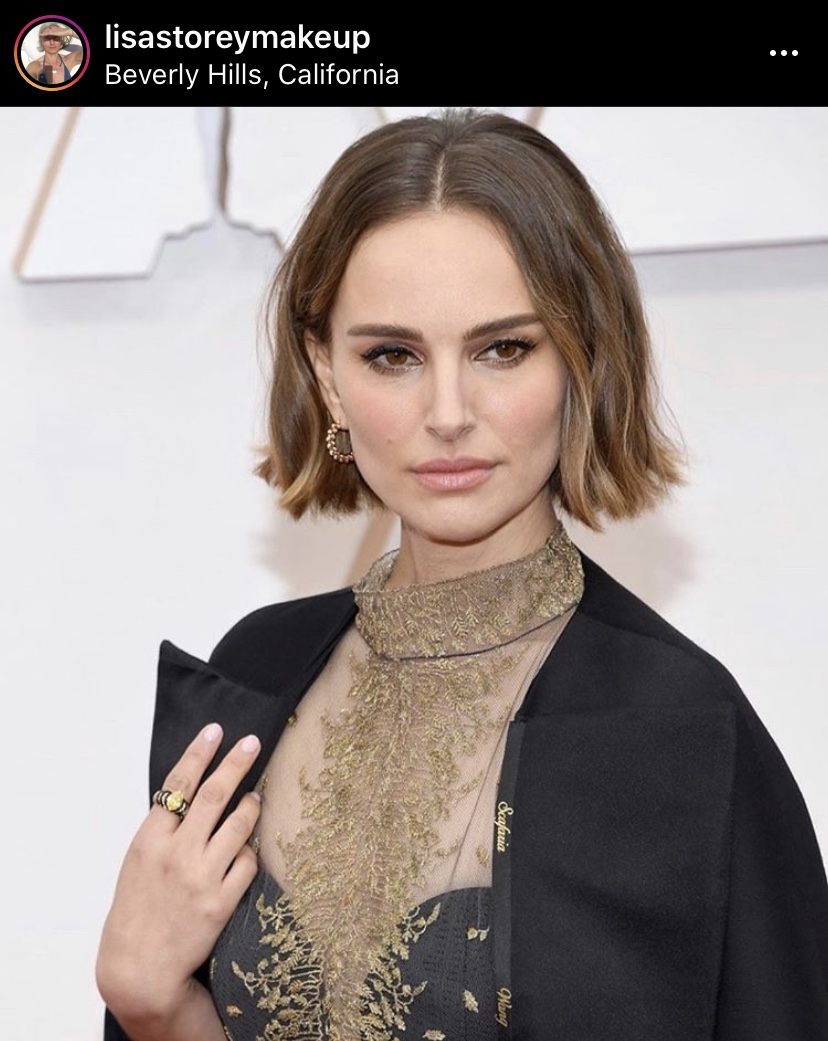 From a blunt bob to a custom-made caped gown by Dior, Natalie Portman was a red-carpet trendsetter. As the face of Dior Makeup, it's only right that her makeup artist, Lisa Storey, create a custom-made and buzzworthy beauty look too. "I first applied rouge Dior 446 Ultra care liquid, then layered it with Dior Addict Stellar Gloss in 629…it created a blush tone lip with a warm bronze glow." Using warm tones from the Dior Backstage warm neutrals palette in the inner corners of Portman's eyes, helped give this classic black cat-eye a trendy update that flattered the adornments of her dress.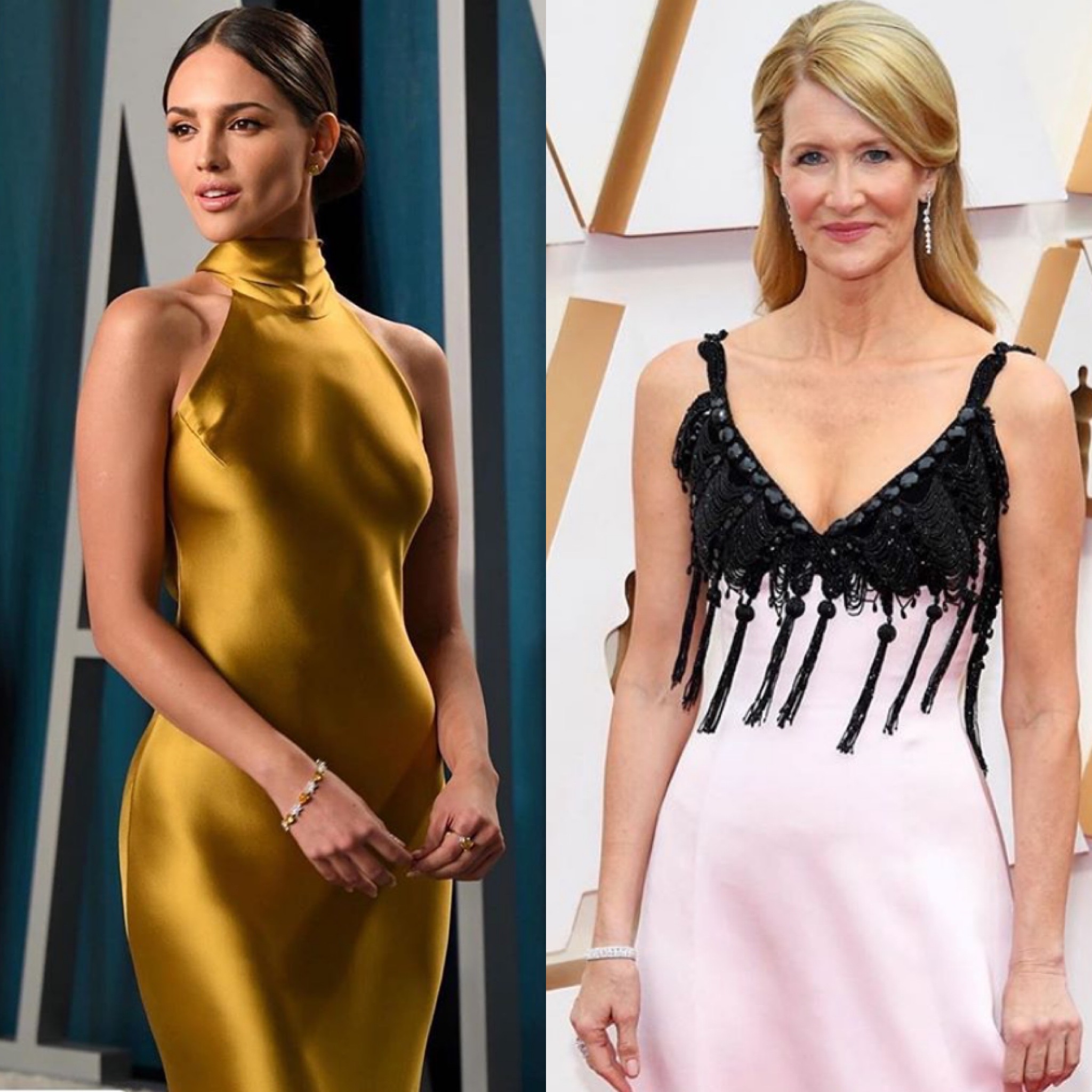 Lips and lids weren't the only things covered in a nude bronze glow. From the décolleté to the legs, the entire body has to be just gorgeous for the cameras. Frankie Boyd used a subtle and natural body bronzer to create an even and delightfully glowy finish for his clients including Scarlett Johannson. Boyd states, "It gives a very realistic bronze glow with a little coverage to blend out any imperfections." Available in numerous shades for any skin type, Laura Dern and Eiza Gonzalez were also sporting this award winning body concealer.
These looks may have been worn through the award season, but they will last well into the spring and summer. The best part, it took weeks to prepare and perfect these beauty looks for the red carpet, and now you have all the secrets in your back pocket. Who deserves an award now?
Sources:
https://www.google.com/amp/s/www.etonline.com/penelope-cruz-is-the-epitome-of-sophistication-at-2020-oscars-see-her-elegant-look-141206%3famp
https://www.neutrogena.com/search?q=Glow+primer&lang=default
https://www.harpersbazaar.com.au/beauty/celebrity-hair-makeup-artists-19849?utm_campaign=later-linkinbio-bazaaraustralia&utm_content=later-5074677&utm_medium=social&utm_source=instagram