Before Covid, maybe it was cool to get all sugared up on chocolate eggs and jellybeans on Easter. For 2021 celebrations we are taking the previous year into consideration and opting to surprise loved ones with an indulgent and personalized beauty gift instead of sweet treats. The curated Easter-themed gifts below will be a fun way to incorporate self-care this holiday.
L'Occitane Delicious Almond Spring Egg
L'Occitane stuffed their adorable spring patterned egg with 3 signature products that feature their delicious almond scent and luxurious textures. What else do we need to tell you other than make sure you get one for yourself because the hand cream melts right into your skin and leaves a light and sweet and addicting fragrance.
Inuwent Friends Forever Fuchsia Bunny Lip Balm Trio
This is a cute addition to add to the basket and help lighten the chocolate load. The sweet scents and cute packaging are sure to win over little hearts and hydrate lips!
Lush Golden Egg
Crack open relaxation with this golden egg! It'll be easy because it's packed with five cute Easter-themed items and features their best-smelling scents. It's a fun way to celebrate the holiday and a gift anyone in the household is certain to enjoy.
Spa Life Spring and Easter Facial Sheet Masks
Have a spa night with the family by incorporating these cute spring and Easter-themed masks into a spa-themed easter basket. With the added rosewater and witch hazel, it'll be a great gifting idea for teens and men because it will help to hydrate and control oil.
Revolution Beauty London I Heart Revolution Bunny Eyeshadow Palette
For the kid with you, or the kid in you. It doesn't matter because this fluffy eyeshadow palette by Revolution Beauty London is beyond adorable – and sought after. Don't worry if it's sold out, though. You can always get the Revolution Skincare Bouncy Bunny Ears Headband and this cute little bunny eyeshadow also comes in the I Heart Revolution Licorice version too.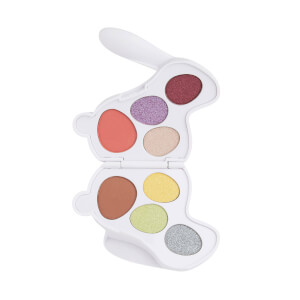 Self-care gifts are always a great way to show that someone that you care and don't forget to treat yourself to these fun Easter-themed gifts as well!
Sources:
https://www.lushusa.com/gifts/all-gift-sets/golden-egg/60717.html?gclid=CjwKCAjw9MuCBhBUEiwAbDZ-7jn5xRz7Klbh_482HeE9EO25Sn7uCmH5AYsniKeiZev9Z8HUu7HNmBoCSzsQAvD_BwE