We last left you at Day 3 of our Pivot Point Study abroad trip to Barcelona, Spain. Explore the remainder of this trip as told through the eyes of the students who had the opportunity to attend.
Day 4- Temple Expiatori De La Sagrada Familia
The view looking up through the courtyard was breathtaking. I was so inspired by the architecture. -Tiffany B.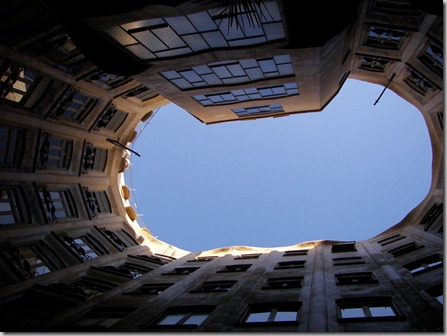 The chimneys were all completely different. It was insane. You could see the whole city from the roof! – Tiffany B.
We walked in and everyone was mesmerized by this stained glass window. It was truly incredible. –Adrianna B.
It was funny because none of us had ridden a bike in YEARS. It took a minute to get used to being on a bicycle again, but I wouldn't trade the experience for anything in this world. -Carolynn N.
I was riding a bike in Barcelona. Kinda Amazing. – Leena K.
Day 5- Giorna and Medieval Romantic Towns
Students spent the day touring Giorna and Medieval Romantic towns along the coast. They were captivated by the beauty of the coastline and loved the quiet peacefulness of the locations.
The architecture is so magnificent on the edge of the water. It looked like a movie.-Rebekah A.
The water was super blue and we ended up having an impromptu photo-shoot on the beach. The tour guides tried to redirect us but eventually just let us have a blast and we came back with pictures to die for… –Adrianna B.
We loved this quaint little town. It was the ultimate escape from the hustle and bustle of Barcelona! –Carolynn N.
It is a local custom to kiss the bum of this lion. We thought it was strange, but went with the flow.. –Kristen J.
It cost me a small fortune to send out 10 postcards! Worth. Every. Penny!!!! – Micayla R.
Day 6- Salon Visits
We got to visit local salons and absorb the European culture. This one salon had a tattoo/ piercing room in the back. – Carolynn N.
Best hot chocolate of my LIFE!!! Dayna H..
I cried when we entered the soccer stadium. I have played soccer my entire life and this was a dream come true!!!!!! – Micayla R.
Day 7 & 8- Hands On Education
Pivot Point International rolled out brand new education and our students were the very first to take it. Severine LeBrown and Sabrina Holtz taught the theoretical and practical aspects of the Meta 050 hair design course.
The students also had the opportunity to work with Makeup Forever for an entire day.
We learned this cool fringe technique so when we got back to the hotel room we cut fringe on me. Loved this education. -Carolynn N.
I loved the techniques they taught us. Especially the fringe techinques!! For me, fringe was something I really struggled with and this class really helped bring it all together for me. –Adrianna B.
Once I learned about MakeUp Forever, I went out and bought a ton of it… It is actually what I wear now. – Alissa S.

It was cool because they had an area for photo-shoots in the studio area. They were actually doing a photo-shoot while we were there. They made a hairpiece out of candy and complemented the look with this incredible makeup line. –Leena K.
Absolutely, the trip of a LIFETIME!!! We had the chance to hang out with girls from other classes and ended up becoming really close. I love these girls! – Selina H.
The flamenco show was so much fun!! We loved the dancers and had such a great time! – Tiffany B.
Day 9- Homebound
Our students found themselves on a jet headed back to California and faced with the plight of airline food much too quickly.
Though they had spent 9 luxurious days in Barcelona, everyone agreed they could have easily spent another 9 with no objections!
Interested in our Study Abroad program or becoming a student? Check out www.Federico.edu or give us a call at 916.929.4242.