Pivot Point encourages their students to look at the world around them for inspiration. Beauty is everywhere; visiting other cultures to learn how they view beauty and apply their skills in the beauty industry is a great way to broaden your horizons. Throughout the year, Pivot Point schedules trips abroad that feature cultural excursions and hands-on learning opportunities.
Travel Day
For many students, this was their first experience traveling abroad. The girls had been preparing for this trip for months during meetings detailing passports, baggage weight limits, etc. When the day finally arrived they were ready to go!
The 12 hour flight time was filled with anticipation, and they were excited to hit the streets of Barcelona, Spain as soon as the plane touched down on foreign soil.
Day 1- Tour du Jour
A half day trip to Sitges, a beautiful village by the sea and one of the most picturesque towns on the Mediterranean coastline. The morning was spent strolling around this ancient city.
I was so excited to put my feet in the Mediterranean Sea!! – Micayla R.
Walking along the Passeig Marítim gave students the opportunity to enjoy the views and immerse themselves among the artists, painters and sculptors who reside and work there.
Dessert was this block of ice cream with homemade chocolate sauce that was rich and creamy. Juicy fresh strawberries were served on the side… I have literally been dreaming about this dish since we got home!! – Rebekah A.
After a lunch overlooking the harbor and afternoon city tour, Federico students arrived at Hotel Evenia Rossello Barcelona to unpack.
Dinner was at the popular restaurant near the hotel – Balthazar. Balthazar offered a fusion of Mediterranean and Catalan cuisine with a hint of the Orient.
Day 2- Gothic Barcelona Exploration
After breakfast at the hotel's restaurant, the group explored Barcelona in depth with a full day tour to Montjuic Hill, Poble Espanyol, an open air museum and the Barri Gothic ("Gothic quarter").
The places we went were so gorgeous. The day to day scenery was extraordinary! Our tour guide was really funny and she kept us laughing all afternoon. – Kristen J.
Spain's most popular museum – The Picasso Museum, was also on the agenda for the day.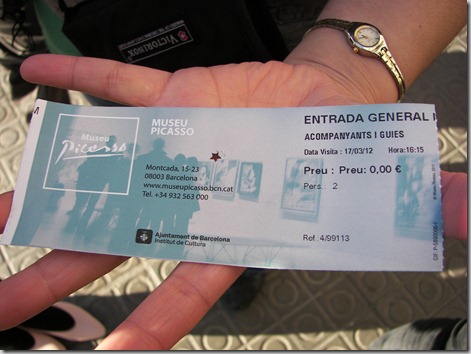 A group diner at Alba Granados – a unique Barcelona restaurant that mixes the energy of Barcelona, the feel of New York with the food of Paris.
Afterwards, the girls were on a mission to experience the local night life.
It was the strangest thing because they played the exact same music as the clubs here in America. I was expecting something totally different, but we had a ton of fun dancing the night away!! -Adrianna B.
Stay tuned for the rest of our Barcelona series and find out about the rest of this once in a lifetime trip. Are you interested in attending Federico Beauty Institute? For more information, contact an Admissions representative at 916.418.7223 .