By: Sarah Federico, Beauty & Wellness Writer
Cold weather season could be wrecking your hair. We'll tell you how to stop it.
Winter welcomes a host of upsides: from cozy sweaters, scarves and hats to evenings spent fireside – there's no shortage of items in the plus column. In the minus column, your hair's health. That's because the cold weather outside combined with dry indoor heat can lead to serious dehydration, split ends and breakage.
Luckily, there are simple ways to banish bad hair days when the barometer dips bellowing freezing. Here, we share straightforward remedies for winter's most common downsides.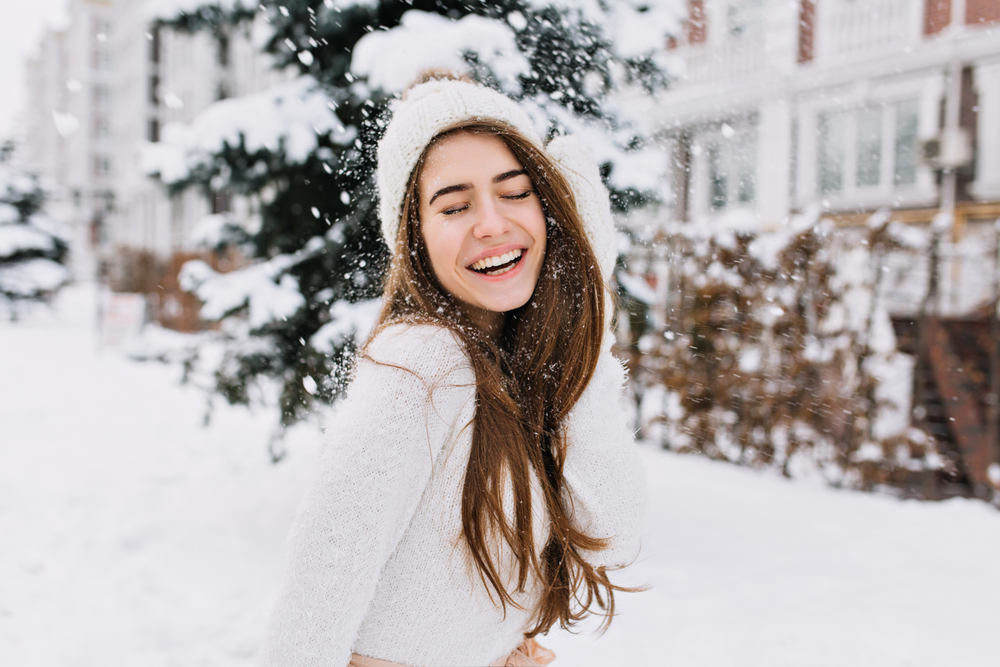 1. An itchy, flaky scalp.
Temperature fluctuations – such as cold outdoor weather juxtaposed against dry, hot indoor temperatures – can take a toll on your scalp. Because, just like the skin on your face, the skin on your head can be impacted by dehydration, too. And when it becomes dry, it's likely to itch and possibly flake off, too. But, thanks to the Kerasilk Revitalize segment, you can give your scalp the extra attention it needs.
Formulated with powerful antioxidants, Kerasilk delivers scalp-specific formulas aimed towards exfoliating, cleansing, rebalancing and nourishing – for a perfectly balanced and irritation free scalp.
2. Split ends.
We confess: the only way to cure a case of split ends is to get a haircut. While this might seem frustrating – particularly in light of recent closures – there are ways to make split ends look and feel better until you're able to make your way to the salon.
Formulated with low-molecular keratin, which penetrates to the core of the hair and fills up the damaged parts, Kerasilk Reconstruct Split Ends Recovery Concentrate can significantly diminish the appearance of split ends – while preventing future damage. Simply apply several drops onto damp or dry ends and leave in.
3. Super static-y strands.
During the winter humidity is naturally lower. That, combined with dry indoor heat, can cause your hair to become charged with static electricity. Happily, the fix is easy: keep hair healthy and hydrated so it's less susceptible to the effects of dry air. That can be as simple as switching to a more hydrating shampoo and conditioner, plus adding a leave-in conditioner to your hair care routine. "By using the right hair care products, your scalp keeps its natural balance of moisture and oils and your hair shaft stays flexible and nourished," Deycke Heidorn, celebrity hairstylist, tells Self Magazine.
4. Straw-like hair.
Similar to static, chronically parched strands can be a result of decreased temperatures and humidity. "Hair can dry out in winter from not having enough moisture in the air," advises Adam Federico, Content Director for R+Co. "This is when is when a good conditioner can really help."
We recommend once-weekly use of R+Co's Television Perfect Hair Masque. Formulated with coconut oil, murumuru butter and olive oil, this strand soothing salve can be used up-to once per week to improve elasticity and manageability while conditioning, deeply replenishing and fighting frizz. "Apply it in-shower, after shampooing," says Federico. "For best results, leave it on for at least five minutes."
So, while winter can bring on a slew of hair care concerns, taking proactive measures can help to stave off the side effects of fluctuation temperatures. Take note of the solutions, here, and enjoy a cold-weather season full of joy – and good hair days, too.