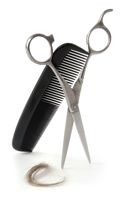 For many people, their hair style is their crowning glory. But sometimes that crowning glory can be in a fragile state, thin from years of mistreatment. As a stylist, it's your job to return that thin, damaged hair to a fuller, more flattering appearance.
If you're looking to give clients with thin hair a fuller look, think about styling products and techniques that will help achieve results without causing more damage. Thin hair requires special attention, and weighing it down with product or using too many styling elements can make it look worse rather than better. Take these tips into consideration when working with clients with thin hair.
Styling:
If your client's hair is thin, try to treat it gently. Blow-dry with care, being sure to air and towel dry as much as possible. Work quickly using your fingers instead of a brush or comb for added control.
Only apply product to nearly-dry hair, since wet hair dilutes the product, making it less effective.
Avoid ponytails or tight braids, as they are damaging to the hair shaft and follicle.
Where possible, forgo the flat iron and curlers. If you must use them, try to focus on the mid-shaft and ends of hair. Don't run the heating elements over the hair again and again—just once should do.
Cuts and Color:
For thin hair, think short layers for volume. Classic or choppy bobs with or without layers are the best bets. Anything longer brings on the danger of giving the hair a wispy, tired look. Think Jackie O or Meg Ryan.
If length is essential to the client, recommend shoulder-length layers with a bit of permanent highlighting.
When coloring, go with a permanent shade, as the dye will add volume to the hair.
Advise clients with thinning hair to steer clear of light blonde shades. The translucency makes the scalp more visible, ultimately exposing what he or she is trying to hide. Instead, suggest varying tones while keeping the darker colors toward the scalp.
These are just a few quick tips to keep in mind while working with thin hair. In addition, you should also help your client develop a positive self-image without making him or her self-conscious. This supportive and positive atmosphere is one of the major incentives for clients to return, so make sure you do your best to make the experience memorable.
At Federico Beauty Institute, we help our students stay up-to-date with all the latest trends and teach them how to carefully style all types of hair. To learn more about our programs, don't hesitate to contact us today!