On February 8th and 9th Federico Advanced was honored to host Nick Arrojo for his two day hands on seminar, Up Close with Nick.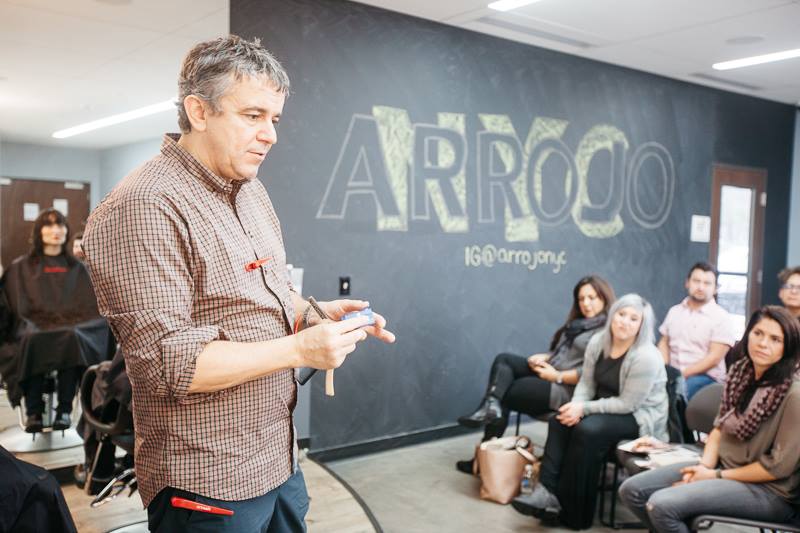 Salon Professionals from all around Northern California attended the class to learn in-depth razor cutting knowledge.
The weekend started with live model razor cutting by Nick and Caitlin Senna of AJF Salon. They both did long layered looks, bringing out the hair's natural texture.
On day two, the attendees were able to dive into their own razor cuts. Mastering the Plier Razor can be a tricky thing. There will always be a few nicks and scrapes along the way, but all of the students did a fantastic job.
We ended the weekend with an Arrojo Happy Mondays event. Nick Arrojo (Arrojo NYC), Adam Federico (AJF Salon), and James Colgan (James Colgan Union Square) did razor cuts on live models for the 130 people in attendance.
Between the three salon owners they did five different looks in the 2 hour demonstration. The looks ranged from long layers to short bobs.
Raquel, one of the salon professionals found it to be an incredibly inspiring event. "I can't wait to get my own razor and start practicing. They used those blades as if they were an extension of their own hands."
CHECK OUT THESE QUICK TIPS FROM NICK AND GORDON OF ARROJO NYC